Fall Sports Coming to an End
The Hatters' athletic season is coming to a close. As sports come to their ends, athletes look back and reflect on the fall season.
Four teams won the district championships. Good luck to boys' cross country, girls' volleyball, boys' soccer and girls' soccer, as they head into the postseason.
Cheer:
Seniors Jill Hatfield, Lindsey Letofsky, and Breanna Wesolowski captained a team of 25 girls.
"Being on the team for the past four years has been a great experience because I have made many close friends and we have accomplished a lot together and hopefully even more this season!"
-Lindsay Letofsky (Senior, Captain)
Boys' Golf: 5-9 (League 5-5)
Senior John Marvin and junior Noah Sim captained a team of 23 boys.
"Our golf team was great and the friendships among the team were amazing. Coach Harmon and Coach Hartmeier were great, each with their own unique personalities."
-Ethan Cho (Freshman)
Girls' Golf: 6-7 (League 5-5)
Seniors Sheila Fisher and Annie Griffith captained a team of eight girls.
"This year was the most fun I've had as it was the culmination of all three years. This can be drawn back to the fact that out of the eight girls on the team, four were seniors. We all really clicked with one another and had our share of success. It was a short, yet compact season and I'm really grateful it went as smoothly as it did!"
-Sheila Fisher (Senior, Captain)
Girls' Tennis Team: 8-5 (League 5-2)
Olivia Hirt (varsity-first singles) and Nicole Huertgen (varsity-exhibition) captained a team of 31 girls.
"The tennis team is really close, and we get along very well. With some ups and downs we all still are there for each other and are friends by the end."
-Nicole Huertgen (Senior, Captain)
Football Team: 1-7 (League 1-4)
Pat Chapman, Logan Flynn and Jordan Collazo captained a team of 54 boys.
 "It was a rough year for the team, but it was a great experience to play quarterback in my freshman year. I love the guys on the team, and it was a very fun year for me."
-Colin O'Sullivan (Freshman, Quarterback)
Field Hockey: 7-11 (League 5-9)
Sorrell Long, Audrey Leibfried, Hannah Deal and Paige Mullen captained a team of 19 girls.
 "I think we had a really good season this year. The new coaching staff really helped me progress as a player, and the team grew as a whole. Throughout this season, my knowledge of the game grew a lot, and I improved my skills. I enjoyed getting to know my teammates very well as we had to adapt to the new coaching together. Also, we had a much better record this season, which made the season more fun."
-Gracie Ransom (Sophomore)
Girls' Soccer: 15-1-1 (League 12-1-1)
Camryn Ryan, Kara Thomas, Camryn Hughes and Izzy de la Torre captained a team of 50 girls. The team won League Championships.
"We're having a really good season and it's reflected in our standings, but also in our relationships. We've had a close team the past four years, but this year's team has the strongest bond by far and it's resulting in a lot of success."
-Kara Thomas (Senior, Captain)
Boys' Soccer: 15-2-1 (League 12-1-1) 
Vince Buccafuri, Matty Harmon and JD Mallinder captained a team of 44 boys. The team won League Championships.
"I think we had a really good season. I didn't think we would do so well at the start of the season, but we did well as a team. We came together as a family and really learned how to play together and with each other. I enjoyed spending time with my teammates outside of soccer."
-Scott Katherine (Senior)
Volleyball: 17-1 (League 16-1)
The team of 26 girls had an amazing season. The team won League Championships.
 "Both our JV and Varsity teams have special bonds that cannot go unnoticed.  Whether it be among one team or both teams, as a whole program, we are all one … To me, this has always been one of the most prominent contributing factors in how we play, as a team cannot play without chemistry.  It is the reason why we succeed as a program and have fun doing it too … The memories we've made and bonds we've formed is always one of the things I think I'll cherish the most when I am done high school. In the future, I look forward to progressing as individuals and as a team, and hopefully making it really far in the playoffs."
-Kelly Cappuccio (Sophomore)
 Boys' Cross Country: League 6-0
In an outstanding season, Lars Knudsen, Jaylen Lasseter and Stefano Isabella captained a team of 33 boys. The team dominated the SOL American Conference Championships in their first league title since 2010.  
"I really enjoyed cross-country this year. It was very fun running with a group of your friends and supporting each other. We all put in a lot of hard work and it paid off this season."
-Jacob Schwartz (Freshman)
Girls' Cross Country:
Hallie Anderson and Audrey Lane captained 15 girls.
 "Being a part of the cross-country team has been such a great experience! Everyone was so welcoming and supportive. This was my first year running cross country, and I'm really looking forward to the upcoming league championship. Cross Country is a very challenging sport, but it's also very fun and rewarding. We are a young team, with this being the first year running cross country for many of the girls, but I know we will continue to grow. We're so lucky to have such amazing coaches, as well."
-Emily Simko (Freshman)
Great job everyone!
Leave a Comment
About the Contributors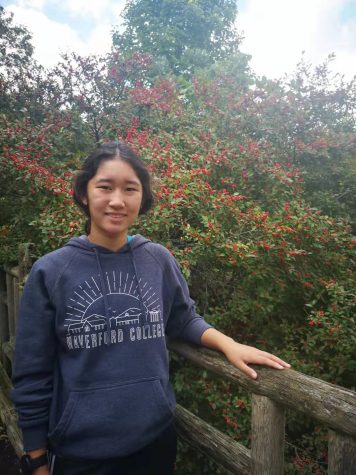 Lily Wu, Editor-in-Chief
Class of 2023

Favorite food: Mango

Favorite school subject: Literature/World history

Favorite animal: Bunny

Favorite part of being on The...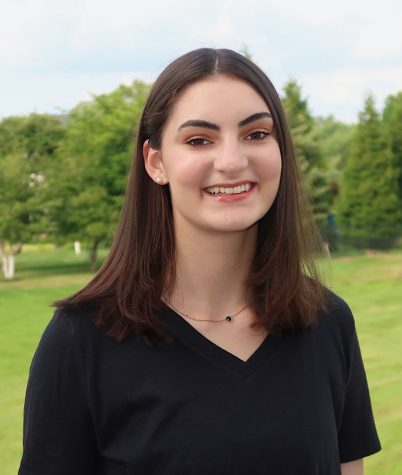 Ella Warden, Copy Editor
Grade: Senior

Favorite school subject: Computer Science

Hobby: Rowing

What you enjoy/look forward to with The Hat Chat: Meeting new people and...