Enchanted at the Taylor Swift Concert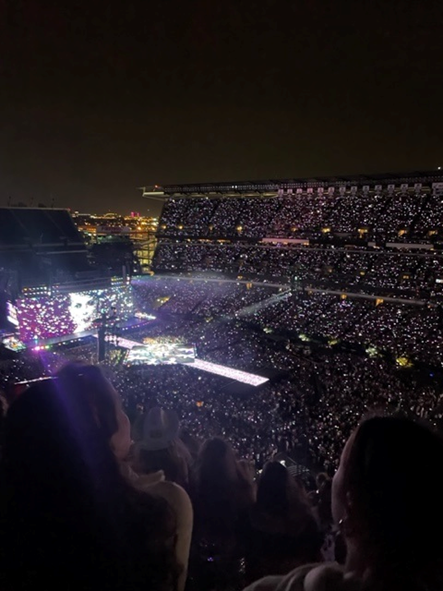 The Lincoln Financial Field was filled–this time not with sports fans, but with tons of Taylor Swift fans. Taylor Swift was one "Mastermind" as she took a sold out, 70,000-person crowd through a journey of 17 years of music at the Lincoln Financial Field on May 12, 13 and 14.
It all started in November when Ticketmaster would shut down due to the huge mass of fans purchasing tickets.
Sophomore Kendell Goelz was someone who was unable to buy tickets at first due to the shutdown. "It was crazy. Every ticket I would go to buy, someone would have already beat me to it first."
Sophomore Emmy Erikson's experience of buying tickets was easy "since we got the pre-code, the tickets were not as expensive as others." 
Kendell had such an amazing time at the concert. "My tickets were nosebleeds but any seat in that stadium was completely worth the money." 
Emmy's time at the concert was "better than anything I could have expected. The set list she played over forty songs and that is crazy."
The Taylor Swift concert was a concert for all ages to go to. We asked senior Mia Tamburino how getting the tickets and how the concert was. She said, "It was the best concert I have ever been to and definitely worth it. Buying tickets was stressful but I got good seats for a very fair price."
When we asked junior Frances Hartigan about getting her tickets, and she said, "We got the codes for the presale. I got two tickets for my friends because I could only get two tickets. My group was four girls. We eventually got tickets through my friend's dad's friend who works at the Linc, and he got us tickets in the nosebleeds. I was super grateful I got to experience this concert."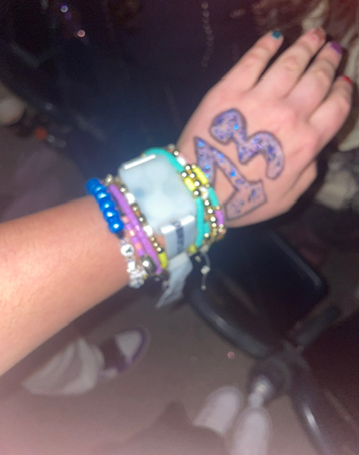 She continued to talk about how magical the night of the concert was: "It was the best experience ever and there truly is no bad seat in that stadium. The light-up bracelets that we all got were also so cool and matched with the beats of the songs. We got out of the stadium ok, and we probably waited an hour and a half to get out of the line. We got home around 1:30am but it was worth it."
Freshman Samantha Wigginton made it aware to us that getting tickets was troubling, however she later got tickets from friends.
She stated, "Going to the Eras Tour was my first ever concert, it was great even though getting tickets was a terrible experience. When I got there everything was amazing, so many people, all my favorite songs, everything was overall worth the agony. It was the best first concert anyone could possibly ask for."
 The Eras tour concert sold out football stadiums holding thousands of fans. There were just not enough seats for all Taylor's fans. This caused conflicts among friends. Sophomore Nadia Clevinger would have to keep her tickets a secret to friends who she did not buy tickets for.  
Nadia recommended keeping them a secret so as not to have a lot of people coming up to you about the tickets.
"Buying tickets was like survival of the fittest. We had six different people trying to get in and when we found out we were getting the tickets, I had to keep it a secret. We didn't want the tickets to be given away."
Not only is Taylor Swift a music icon to teenagers, but also to adults. Kendell's mom was unable to come, but she still felt Taylor with her. Taylor played "The Best Day," which is a song about her and her mom. This song has been "their" song since it came out. My mom said, "I was not there with Kendell, but even watching it on live streams, I felt like I had a seat in the stadium."
Sophomore Aashna Patel had initially not purchased tickets.
"It was very hard because originally, we didn't get tickets but then we bought them from a friend," Aashna Patel said when we were talking to each other about the struggles of buying tickets.
Aashna told us that she is missing seeing Taylor Swift perform even a week after she went on the stage. "The concert was one of the best nights of my life and I would do anything to experience it again."
In the stands fans felt suddenly united. In that stadium we are not just 70,000 people; we all are one person, people who love Taylor Swift endlessly and scream her songs together.
"It was amazing being in a stadium with thousands of people with the same music taste as me all belting the songs together word for word it was just so amazing." said sophomore Gabe Berger, who told us that he had a delight being with people just like him and being just as amazed as him.  
Leave a Comment