Goodbye to Locker Pods
With the school year coming to an end, the administration is focusing on new things that they can improve for next year, including removing the locker pods. The last time lockers were used was the 2019-2020 school year. Fast forward to 2023, we are back full time and lockers have been removed, and more will be removed.
It started with the first floor B-wing, when students came back to the building this year they were in for a surprise. Over the summer the B-wing locker pods had been taken out and replaced with tables and small sofas. 
This new space has become a sort-of stage for students to show off their talent. Back in February, during the curriculum fair, some students and teachers set up a karaoke stand. The newly-freed space was also used for a karaoke session during the curriculum fair in February. Many students sit in the now replaced locker pods, and love it! 
In the upstairs B-wing locker pods, freshmen Leah Hoffmen told me she would like to see more "flexible seating and more sofas in the Upstairs B-wing, and maybe some tiny tables." Leah likes that the B-wing is not too crowded as well, and with all this new seating coming to HH, people will definitely be more spread out and it will be even less crowded.  
Over the summer, the upstairs A-wing and H-wing locker pods will be taken out as well, assistant principal Mrs. Angela Whelan stated in a email.
Freshman Giselle Aguilar-Rodriguez said, "I would like it if they added decorations, like banners and stuff." Administration sent out a survey on May 10 asking students what furniture they would like to see in the new space. Students got four different options to choose from and selected the one they liked the most.
Freshman Gaby Bartholomew said, "I think it was great because we got options and it made me feel included in the choices." Administration asked students what kind of sofas, tables and chairs they would like to see. Like Gaby, many students felt heard about what they wanted to see for the locker pods.
Giselle added, "I think it's good, the survey is great since they can get our input." Both Giselle and Gaby felt 'seen' by the HH staff when they sent the survey out. 
Sophomore Keerthi Mokkarala, who sits in the upstairs H-wing, said "I sit in the locker pods because it's quiet," and suggested that "there should be more comfy chairs." Keerthi showed me that her lunch table chair came off (shown in featured photo). 
I asked sophomore Liliana Bartholomew why she sits in the A-wing and she told me she sat there "because it's very spacious" and said "more comfortable seating with back support." There are many different seating options in all the wings, and to add to the upcoming locker pods that will be taken out, Lily has made a very good suggestion to improve in the next year. 
While yes, many students sit in the locker pods, many students will have a new and fun place to sit that many schools do not have. Many look forward to these upcoming renovations to the locker pods.
Leave a Comment
About the Contributor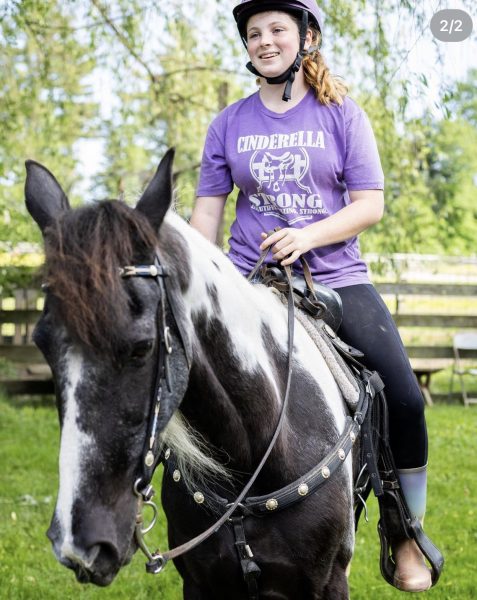 Charlotte Chapman, Staff Reporter
What is a favorite hobby of yours: Horseback Riding

What do you look forward to working with The Hat Chat: Interviewing people because it's cool...