All Rise for the Homecoming Court
On Monday, Nov. 1, seniors Jack Steinberg and Abby Roesing were crowned Homecoming king and queen by the senior class of 2021.
Jack said, "I was extremely surprised. I did not think I was going to win at all; it was really poignant. With how turbulent the entire high school experience has been, this is a little bow on all of the chaos."
"I was so happy to be nominated next to Martine, Ally, Morgan and Sara because I am friends with them and they are all such nice people!" said Abby. "I think is a perfect way to close senior year. This is a memory I will hold forever. I had so much fun and am so happy to know that my peers thought I deserved the crown."
Also nominated were  Justin Chong, Hunter Long, Tarek Elsabbagh, Manas Date, Martine Royds, Alison Randa, Morgan Long and Sara Bozzomo.
Martine said, "I honestly never expected to be nominated. I was really honored and touched that people thought of me for it. I also thought Hocoween was also a really good idea considering drawbacks from COVID. This was actually my favorite homecoming so far, because I feel like the Halloween theme and everything else made it super memorable and special."
Ali was also surprised at her nomination.
"I wasn't going to go to homecoming," she said. "I've never been to homecoming before. I went after learning I was nominated, as Wednesday Addams; I had no idea what I was going to wear until twenty minutes before. I was thinking about the nomination the whole time; I was thinking it'd be funny if I won after not trying.
"It was a lot of fun," Ali said. "I danced a lot. It wasn't too cold and wasn't too hot, as it would've been in the gym. What else can you ask for?"
Tarek said, "As a freshman, the idea of being part of the homecoming court was something that seemed cool; however, I never thought that I would actually be part of the court, so seeing it come true was amazing. Although this was not the last homecoming that I expected, I thought Hocoween was awesome! It was definitely my favorite homecoming that I have had while in high school, and I thought being outdoors in the stadium was something new and fun. As an officer of Student Council, I know the amount of hard work and effort that the other officers, the other members and especially Mr. Greenberg and Mr. Grady put in to make this event come together despite the unusual circumstances, so I am extremely proud of what we were able to accomplish and make the most of the situation."
Leave a Comment
About the Contributor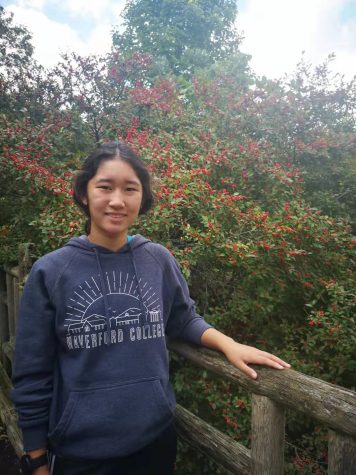 Lily Wu, Editor-in-Chief
Class of 2023

Favorite food: Mango

Favorite school subject: Literature/World history

Favorite animal: Bunny

Favorite part of being on The...