Stage Delight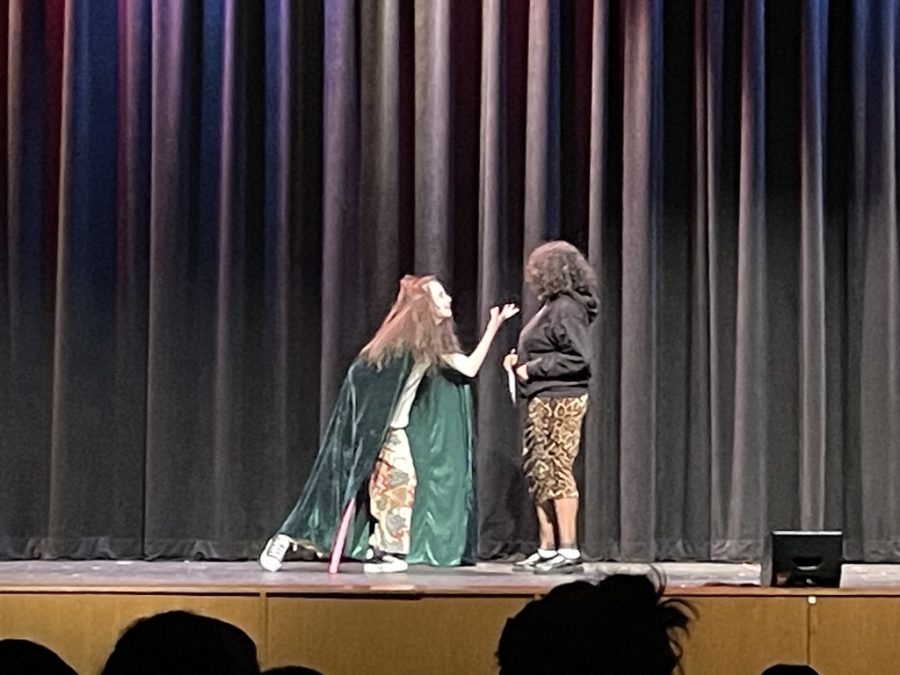 Once the lights dimmed, the theater became bright. On Friday, Jan. 13, Theatre Club presented its annual student-directed short plays. Each of the three was filled with humor and plot twists.
"Drugs Are Bad," written by Jonathon Rand and directed by junior Jocelyn Kozen, pits a rebellious teenager, freshman Shaina Berkowitz, against her unorthodox parents, senior Laura Kirsch and freshman Kenny Kirsch, in an unconventional way.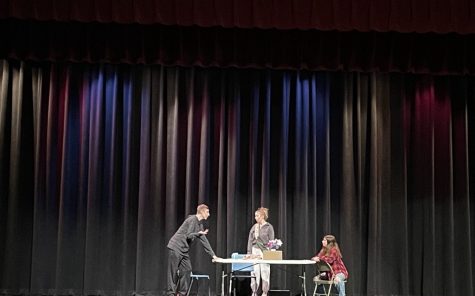 Jocelyn said, "I chose my play because I had been in a short play last year with one of Jonathan Rand's plays and really enjoyed it. I also thought the case could have a lot of fun with the characters. I wasn't nervous because we were prepared, but my cast was nervous since this was some people's first time with a bigger role."
"The Garage Sale of Amazing Items," written by Chris McKerracher and co-directed by juniors Haley Adelman and Hope Jacobus, follows an omniscient and mysterious woman, junior Amora Williams-Batchelor, spreading goodwill at a garage sale to Laura Kirsch, junior George Guzman Gomez, Hope Jacobus, junior Madeline Robinson, sophomore Madison Goldberg and freshman Alastor Pini. 
Hope said, "The play spoke to Haley and me as a heartwarming story about how an object can be so important to someone, even if it's not to someone else." 
She shared some setbacks that students experienced before opening night:
"I had to fill in for someone who quit just this week. There were multiple rehearsals where not many people were there. But, tonight, looking out into the audience, I had a feeling of pure joy. It's really neat. It's rewarding to work so hard and get to show it to other people."
Hope plans to be a Musical Theater major. 
"I was raised on musicals. I've done theater since third grade. I'd rather have a job doing something I love and making less money than I should than hating my job and being paid a ton of money."
"The Brothers Grimm Speculathon," written by Don Zolidis and directed by junior Isabella Solofsky, satirizes the fairytale of Rapunzel. Accompanied by narrators Madison Goldberg and sophomore Lilyan Yanoff, Amora Williams-Batchelor juggles the whims of juniors Amelia Derbyshire, Julie Robinson, Jocelyn Kozen, and freshmen Ben Greenwood and Kenny Kirsch.
Lilyan said, "This is my first time ever being on stage; usually, I'm in stage crew. I made all the props I used tonight–the light saber, quill, scroll, book, the bucket of gold. I did this partly because of peer pressure, and partly because I wanted to. I stepped in as an understudy two days ago. I felt confident. I'm definitely auditioning next year. I'd like to say props–haha–to my costars."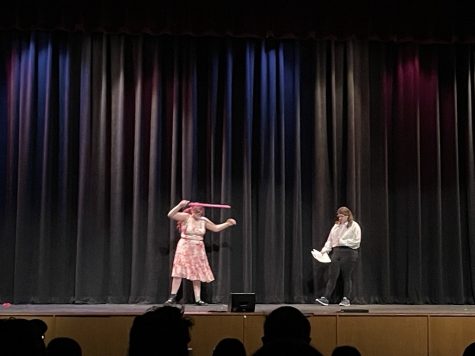 Senior and Theatre Club co-president Caleb Hansford had "interviewed the directors, approved the shows, helped with casting, and checked in on rehearsals." For the most part, student directors and performers had creative freedom. 
"We started around late November, so given how they didn't have a lot of rehearsals, they used their time wisely. I feel confident about the future of the club," Caleb said.
Viewers also enjoyed the plays.
"I thought they were really funny," sophomore Lilly Forster said. "I liked "Brothers Grimm" best. I think that because these plays are smaller and shorter, more people can get involved."
Senior Hannah Whittaker had "the best seats in the house" helping with sounds and lights in the technical booth.
"This was technical improv for us," she said. "Tonight was our first fun-through. In the booth, we laugh together, dance together. It's a lot of fun. Compared to regular shows, tonight was less stressful than fun. You get to be more creative." 
A familiar face was in the crowd to support student directors and performers–former Theatre Club member Miriam Worley, Class of 2022. 
She said, "I was part of the short plays last year. I'm glad to see that it continued. I like that all the plays had some comedy, and the difference in cast size. I also liked the smooth jazz between each play." 
Miriam just finished her first semester in acting school. 
"HH's theater program is great at giving people the opportunity to get into a theater career. We used to only meet around the fall and spring musicals; now, the club has its own events. I'm glad to see the club is doing bigger things," she said. 
Leave a Comment
About the Contributor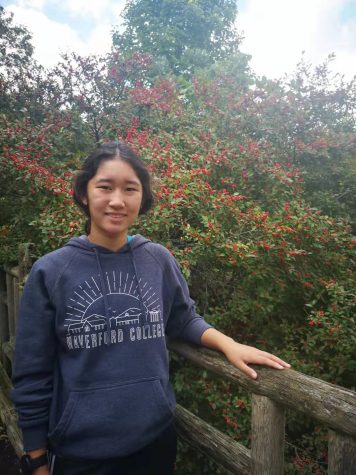 Lily Wu, Editor-in-Chief
Class of 2023

Favorite food: Mango

Favorite school subject: Literature/World history

Favorite animal: Bunny

Favorite part of being on The...