The Power of Art
With the school year coming to an end, Hatboro-Horsham's Art Department hosted its second art show post Covid on April 27 to display students' artwork. Students were able to celebrate their talent and have lots of fun looking at their peers' art pieces, getting food from food trucks, having their faces painted, creating some art of their own, and listening to live music.
The art show is held every year to allow students to express themselves, whether it's through their art or music. Ms Ellert, says, "We have live music in the gallery, musicians from elementary and middle school in the aux gym. It elevates the experience and shows how connected music and art really are."
When we asked Mr. Zellman why he picked the certain pieces he did for the art show, he said, "I like to get a good variety of pieces. First of all, I try to get every different medium, between ceramics, wiring, cardboard, and plasterwork." 
He then continued on talking about giving other students a chance to display their work, "Then I also try to get a good variety of students here so it's not all the same students. It gives more variety and good exposure for a lot of students."
Freshman Avery Hudley, had three pieces she created in Ms. Ellert's comic book class. "My comics are just based on a story I've been writing," Avery said when asked about the inspiration behind her art. 
Avery made us aware that from start to finish, this is how she wanted her illustrations to turn out. It took her a total of two days to complete her work.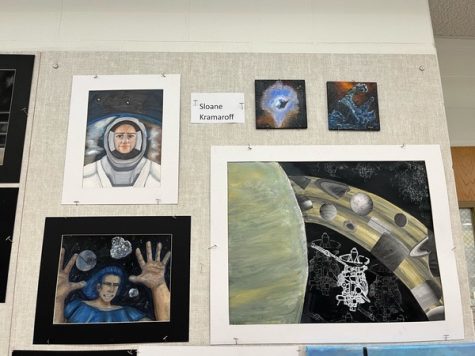 Senior Sloane Kramaroff did space themed art pieces in the show. Sloane's main focus is with his paintings of space. He made them in AP Portfolio, which is a class where you have a theme for the semester and make art based on it. 
Sloane recommended taking this class by saying "You learn so much in all of them beforehand and it's super fun. It's like a nice little family because it's a small class" Sloane Kramaroff said. In his space work, he used special techniques, mostly consisting of blending. Since he used markers there was a lot of trial and error. 
 Not only is there a theme behind his pieces, but they're also meanings that are important to Sloane. He says "I can kind of explore space through art and some of them are stories about what certain planets mean."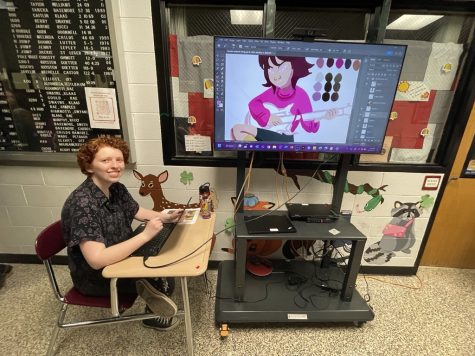 Junior Ari Roth was demonstrating drawing on Photoshop in the hallway. "I'd like to have an illustration or graphic design career," Ari Roth said when talking about their passion for graphic design. They started to take this seriously about seven, eight years ago.
Roth tells us that they mostly do character designs using reference sheets and "I draw animals sometimes. I'm inspired by seeing other people's artwork." Holding the art show helps students like Ari get inspired and ready to create their next piece.
Something that the district never had at their art shows were food trucks. In the front of the high school, there were three food trucks. Everyone was so excited to see that they were here. The line for all of them was constantly growing and never seemed to go away. Outside there was also seating to sit and enjoy your food.
Ms. Ellert told us that she was most excited for the new area, the family fun zone where "we have always had face painting but it's our first year for live art demonstrations, caricature drawings, a photo booth, and watercolor bookmarks."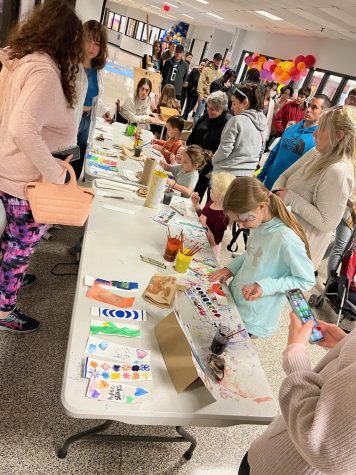 This new area was down the hall from the art gallery, so before getting into the gallery you would walk by the hall and see all of the fun happening. You could watch people make clay sculptures, draw or even make their own bookmarks. 
Once inside the art gallery you can immediately hear the live music being played by Freshman, Maelah-Leigh Martinez who was playing the flute. 
The Hatboro-Horsham art show was created to bring people of all backgrounds to come and celebrate their peers' art and they did just that. This event allows students that attend the school district to see new things and make them think about what art classes they may select going forward. 
View Comments(1)