Black Panther: Wakanda Forever
On Friday, Nov. 11, Marvel released its latest movie to the MCU (Marvel Cinematic Universe)–Black Panther: Wakanda Forever, starring Letitia Wright, Lupita Nyong'o, Winston Duke, Danai Gurira, Angela Basset, Tenoch Huerta and Danny Sapani. The star-studded cast returns for the sequel to 2018's Black Panther. 
Honoring Legacy
One of the previous film's biggest stars, Chadwick Boseman, who played T'Challa, passed away in 2020, leaving many to question the future of Wakanda and its story. Things would all change, however, when Marvel announced all its movies for Phase 4. (A phase for Marvel is a group of television shows and movies that release during a similar 3-4 year time period. All of the shows and movies are somewhat related to each other.) Some movies as well as TV shows included in Phase 4 were Wandavision, Falcon and the Winter Soldier, Spider-Man No Way Home and Moon Knight, to name a few, but to people's surprise, there was an announcement of another Black Panther movie.
The title of the new movie was Wakanda Forever and immediately created discussion over social media. What is the plot going to be? Is Marvel going to recast T'Challa? Is Marvel releasing an unfinished movie? But what seemed to have so many fans left questioning was how Marvel was going to be able to satisfy fans without Chadwick Boseman, one of the largest reasons for the first movie as well as the character of Black Panther himself being so successful. However, it seems that Marvel worked its magic with this latest installment, with the movie receiving a lot of praise early.
Black Panther: Wakanda Forever takes the very risky approach of focusing on side characters instead of mainly focusing on one main character. Without the recast of T'Challa, along comes a new opportunity for side characters to become more meaningful. This strategy has been implemented many times throughout the film industry, from TV's biggest hit shows like Breaking Bad and the recent installment of Better Call Saul, to Star Wars' Solo, and even to Marvel's own shows and movies like Loki and Black Widow.
When carried out perfectly, this strategy creates a beautiful story. The ability for a franchise to be able to dive into side characters and give them a powerful story is the stamp of fantastic writing and storytelling, which not everyone is able to accomplish. That was director Ryan Coogler's mission for this story, to develop side characters while also honoring the late Chadwick Boseman. On paper, it sounds pleasant, especially while intertwined with a meaningful story such as that of Black Panther.  
What to Expect and How to Prepare
So expect a story that revolves around side characters from the previous Black Panther movie. Characters such as Shuri, M'Baku, Okoye, Queen Ramonda and Dora Milaje are expected to have large roles in this film.
To prepare for the movie, I would recommend re-watching the first Black Panther, to once again be familiarized with some of the side characters. Also, if you haven't done so already, I would recommend watching the TV show Falcon and the Winter Soldier, since there is some speculation of seeing some characters crossing over from that show into Black Panther: Wakanda Forever.  
My Reaction to Black Panther: Wakanda Forever
Overall, the movie was good, but did not leave me speechless. The movie didn't have any "wow" moments in comparison to some other Marvel projects. However, the post credit scene made the movie worthwhile and sets up an incredible story for future projects and plots.
If I were to rate the movie on a scale to 1-10, I would give it a 6.5. I would consider this movie a filler movie that will expand the stories of future Marvel films. Some really enjoyed the movie, not that I didn't, but it didn't really have me fully engaged with the story. This reflects the positive box office thus far, with the movie making 180 million in its opening weekend, setting the record for a film released in November released.
The pacing of the movie seemed choppy at times, but overall it was good. The beginning opened up with the climactic death of King T'Challa, which in my opinion didn't flow well at all. I would have preferred to see a little bit of building up to T'Challa's death instead of throwing viewers in with the wolves from the get-go. It felt as though the base for the whole movie wasn't sturdy enough early for the movie to make sense in some of the earlier scenes. The final battle of the movie was fantastic and very action packed.
I would still recommend seeing it because it is a great way to honor the late Chadwick Boseman, but also to stay up to date with future Marvel releases.
Leave a Comment
About the Contributor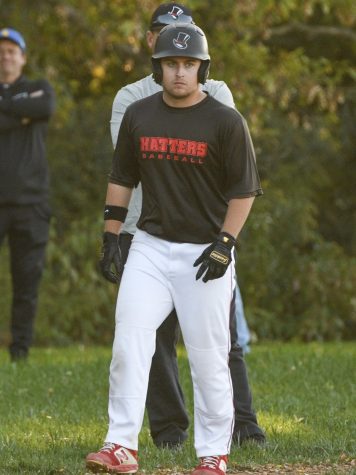 Stephen Plefka, Staff Reporter
Grade: Junior

Favorite school subject: Science

Hobby: Baseball

What you enjoy/look forward to with The Hat Chat: Writing about something new...