A Crushing Defeat
On Nov. 5, at 11:18 p.m, the Astros beat the Phillies with a 4-1 final score in Game 6 of the World Series. The Astros won the Series 4 games to 2, sending distress across Pennsylvania. Phillies fans went home with their heads low, hoping for a better outcome next year.
We were all sad to see this, but we all have different opinions why this happened in the first place. Was it the manager? Batting order? Worse pitchers? Or, the worst of all, were the Astros just the better team?
I decided to interview a number of people at our school to find out what we are all wondering. How could this happen? To find out, I looked for people I knew were big fans of the Phillies, and even people who didn't like them.
For each person I interviewed, I would always ask the same three questions.
Was it good or bad that they lost?

Why did they lose?

Do you think we have the chance to do well next year?
Sophomore Brady Brosowski, a big fan of the Phillies who wore all their merchandise right up until they lost, and even after, said, "I'm a little sad and I'm a little disappointed."
As for why they lost, he said, "During the playoffs they got lucky, they hit a high spot and what goes up must come down." 
Luck is a contributing factor to baseball. You sometimes have teams that are better than the ones that make it to the playoffs but they wind up unlucky. I don't think Brady was wrong when he said this.
An interesting point Brady mentions is towards the end of the interview. I asked if we have a chance of making it next year and he said: "It depends. People got eyes on Trea Turner, but we'll see what happens."
Brady is right. People have been looking at the Dodgers' Trea Turner ever since he was a free agent. With a career batting average of .302 and a career home run count of 124, he's bound to be an important pick next year. Possibly just what the Phillies need.
Sophomore Nick Mergen said, "I don't really care too much but it's pretty bad, they lost two championships in one night." That is true, Nick was referring to the Union game that Philadelphia also lost, but after being asked why they lost he said:
"The Astros were just the overall better team, in my opinion." Whether or not you agree with this, you have to admit it's a possibility. Whether it be pitching or just the players, the Astros might just be better.
When I asked Nick if they are going to make it to the World Series next year, he said, "No, they're not. I think they might make it to the playoffs, but they're just done."
Freshman Padres fan Tristian Jones. He had much stronger opinions than the rest of the interviews.
"I'm actually really happy they lost." I was also really happy; not because of the Phillies losing but because I found someone who actually didn't like them.
Tristian believed the Phillies lost because "they're just a bad team compared to the Astros–they don't make it. The Phillies had a couple good games at home but besides that, they're just not good at all."
Well, for all the Phillies haters out there, we hear you. In all honesty, I have to disagree with Tristian on this. I did not grow up around the Philly area, so I'm not a diehard Phillies fan like some are, but they were a good team with good players, and they just messed it up at the end.
As for whether they'll make it to the World Series next year, he said, "No, it was only one good lucky year and they won't replicate it."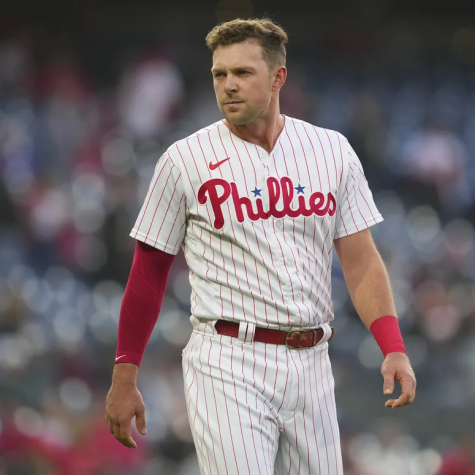 Like I've said before, I agree with this, but it matters whether they pick good people or they get lucky next year.
Sophomore Scott McKenna said:
"I was really upset, I had high hopes for them but it was really a shame." After I asked him why they lost he said that "One of the games they just couldn't hit the ball. I mean a no hitter in the world series? That can't happen. You can't just not hit the ball in a World Series game. You work all season and you get there and you don't hit the ball? Come on."
Scott is right but you do have to remember why players don't hit the ball. The pitching is what really killed the Phillies throughout the games and I don't think it was just because the players were not able to hit.
I've heard some people say that the manager was to blame for the Phillies' loss. I brought up this possibility up to Scott, and he said:
"The new manager this year I thought did an amazing job, personally. The players know how to hit the ball and they just didn't". The opinion that the loss was the manager's fault never made sense to me. Scott is completely right and anyone who disagrees needs some good proof.
Scott said, "I have high hopes for next year, I think they'll be back." We'll see whether that is true or not soon.
Sophomore Scott Smith, who played travel baseball for some time, said "It makes me mad that we lost. How'd we lose? Rhys Hoskins has to learn how to field a ground ball; he can't be messing that up."
There is some talk that we should trade Hoskins. NBC Sports published an article recently with the title "Should Hoskins be traded?", so it is definitely an opinion to have that Hoskins is messing up plays for the Phillies.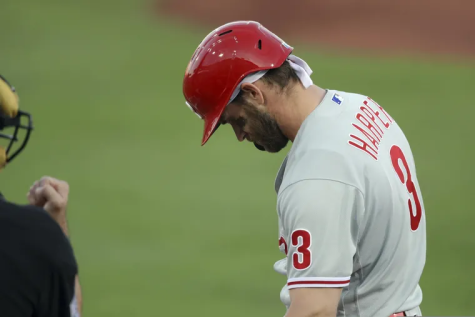 When I asked why the Phillies lost, Scott took a long pause and proceeded to say, "I don't know, I think Kyle Schwarber is pregnant but I'm not sure." What an interesting opinion, please make of that what you will.
As for whether the Phillies will make it next year, he said, "Yeah for sure, we'll get Xander Bogaerts". I agree with Scott. He has a career average of .292, just under .300 and a career home run record of 156. He might come in handy next year.
So to wrap everything up,  If you ask this reporter's opinion, Nick was right when he said the Astros were just the better team. 
The Astros overall just had better pitchers–both starters and in the bullpen. There's an old phrase in baseball that says: "Pitching wins championships" and I think it played out here.                                                                   
Leave a Comment
About the Contributor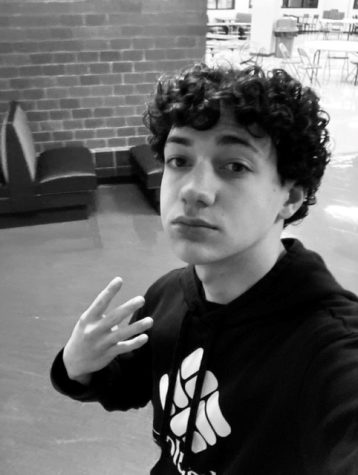 Matthew Salvatore, Staff Reporter
Grade: Sophomore

Favorite school subject: Intro to Business

Hobby: Guitar, gym, Track and Field

What you enjoy/look forward to with The Hat Chat:...