The Average Hat: Avery Daniels
This is part of a new series, The Average Hat, where we highlight students randomly picked from the student body to showcase how impressive and diverse our student body is. 
This week, sophomore Avery Daniels.
Q: What clubs/in-school activities are you involved with?
A: I'm involved in Mock Trial, Dance Team and Helping Little Hands. I'm heavily involved with those three things at the moment.
Q: What do you do after school?
A: Earlier this year, after school, I did Mock Trial, but that is over now. Sometimes we would have a scrimmage after school. I also do dance team Monday through Thursday. I'm on the Black Dance Team.
Q: When did you get involved with dance team? Did you dance before you joined?
A: I tried out for the dance team my freshman year. I made it and did it last year as well. I didn't really dance before. I took one hip hop class when I was in first grade, but that was it. Kelly Cappuccio thought I would be good, so I tried out last year and really liked it.
Q: What do you like about doing dance team?
A: I really like the group of people. It gives me another group of people to surround myself in. They feel like another family.
Q: What do you do for fun? How do you spend your free time?
A: On the weekends, I work at Clean Juice. I like working there because I like to eat healthy. I also go to the gym with my mom. I draw and paint sometimes.
Q: What do you paint/draw?
A: I haven't been doing a lot of painting recently, but I will do landscapes for my grandparents, who really like it. I also draw clothes that I'll someday make. I like to make new things out of old clothes, such as sewing new things to wear. I love fashion, I think it's really cool!
Q: What's your favorite TV show?
A: I really like Gossip Girl. I've watched it so many times. I also liked Grey's Anatomy.
Q: You have an older sister in her junior year. How do you like that? How has it impacted your experience in high school?
A: It can be helpful to have a sister in high school, especially one so close in age. Jocelyn and I take a lot of the same classes at the same time. It's easy to confide in each other. We usually know each other's drama, so confiding in that is helpful as well.
Q: What have been some of your favorite classes you've taken?
A: I'm taking AP World History right now. I like the environment of the class and my teacher, Ms. Krier. I definitely have a more fun schedule now than last semester.
Leave a Comment
About the Contributor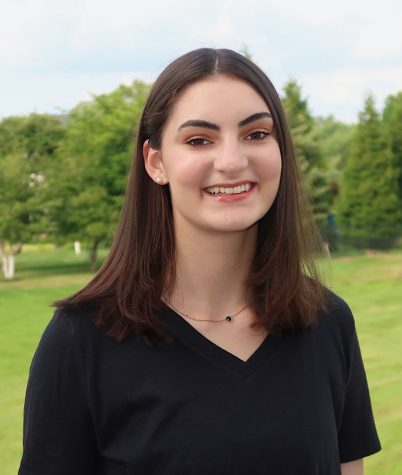 Ella Warden, Copy Editor
Grade: Senior

Favorite school subject: Computer Science

Hobby: Rowing

What you enjoy/look forward to with The Hat Chat: Meeting new people and...