Happy Holidays
After a long and challenging year, we have finally reached December! Even with the pandemic still looming, the holiday cheer cannot be silenced. The holiday lights are still shining, the stores are still packed and the holiday songs are still blasting on every radio in town. Despite the lack of travel and gatherings, families are not allowing COVID to foil their spirits and cheer, even if celebrations do look a bit different this year. And with the holiday break right around the corner, students are more excited than ever to step away from the computer screen and rejoice in celebration!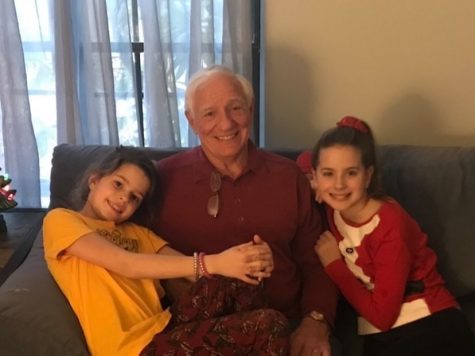 "Christmas is my favorite holiday!" said freshman Shayna Weachter. Under normal circumstances, Shayna spends Christmas Eve with her sister, parents and grandfather. "The 24th is my Pop-Pop's birthday, so he would come over and have dinner for his birthday," said Shayna, "and after dinner, cake and presents, we would watch Christmas movies." Then, after the movie and before bed, Shayna and her family would tell stories to one another and prepare for the next morning. 
In the morning, Shayna and her family open Christmas presents together with her and her younger sister often taking turns. "We start by opening our stockings and then our presents. My sister usually starts, and then I go, and then it just becomes a back-and-forth gift exchange."
Thankfully, not much has changed this year — Shayna will still celebrate her Pop-Pop's birthday with her family on Christmas Eve. "My Pop-Pop has been social distancing, and my family has been too, so he is still going to come over for his birthday," said Shayna. However, she explained how COVID has limited gathering with other members of her family, like her aunt and grandmother. "The biggest challenge with COVID is that I can't see my grandma, my mom's mom. She is a widow, and since I can't see her, she is going to be by herself on Christmas. I also can't see my aunt and I barely get to see her." 
Nevertheless, COVID cannot dampen Shayna's excitement, even if she is not able to celebrate with her aunt and grandmother. "Christmas is the one thing that is a positive in my family. It always makes everyone in my family happy."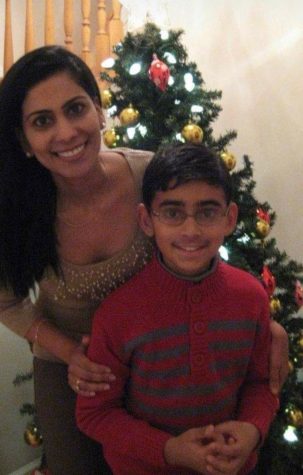 Junior Aneesh Sondur also enjoys the quality time spent with family and friends during the Christmas season. "I always love spending Christmas with my family," said Aneesh. Unlike Shayna, a normal Christmas Eve is more somber for Aneesh, often spending the time with his mom and dog at their house. Christmas Day, on the other hand, is filled with lively and joyous celebrations with friends, family and delicious food. "We [usually] go to a family friend's place where they throw a huge Christmas party. There would be a white elephant exchange and Christmas cookies. It was just an awesome party."
Sadly, COVID has put a pause on his celebrations this year. With the rapid spread of COVID and the rate of cases rising, social interaction has been strongly discouraged. "This year, I am going to abide by the recommendations and probably will just spend time here at home with my mom and dog – just immediate family," explained Aneesh. Since the beginning of quarantine, Aneesh has been staying home and social distancing. Aside from co-workers and his mom, Aneesh has yet to see anyone thus far. He was looking forward to reconnecting with family and friends during Christmas, but knows that the likelihood of this happening is very slim. "This is the first time I haven't gone to that Christmas party since I was born. That is a major tradition that I am sentimental about [missing]."
Although Christmas is still a few days away, many students have already celebrated other holidays this year. Hanukkah, the Jewish Festival of Lights, is an eight-day celebration that began on Dec. 10 this year and ended on Dec. 18. While it may not be the biggest Jewish holiday, it is still one dedicated to family, tradition and food.
"Normally for Hanukkah, my family and I will have Hanukkah dinner with my Grammy and PopPop. I make latkes, a shredded potato dish similar to hash browns, and then we light the Hanukkiah," said junior Hayley Goldberg. "That is on my mom's side. On my dad's side, we usually celebrate with my Zayda [grandfather], and have a nice Hanukkah dinner there as well."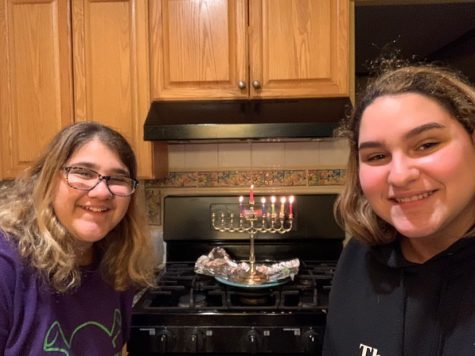 Even though Hanukkah and Christmas are often celebrated around the same time, the two could not be more different. While Christmas celebrates the birth of Jesus Christ, Hanukkah honors the victory won by the Maccabees against the Seleucid Empire. In the midst of the battles, a revered Jewish temple was destroyed, leaving only a jar of oil capable of lighting candles for one night. However, when all hope was lost, the miracle of Hanukkah occurred and the lights lasted for eight nights, thus establishing the eight-day celebration of Hanukkah. Today, a Hanukkiah – a menorah with eight candles and one helper candle – is lit every night for each of the eight days. 
Even now with COVID looming, Hanukkah continues to shine bright for all who celebrate. "Even in the darkest times, there is still enough light to get us where we need to be…. That is the miracle of Hanukkah," said Hayley.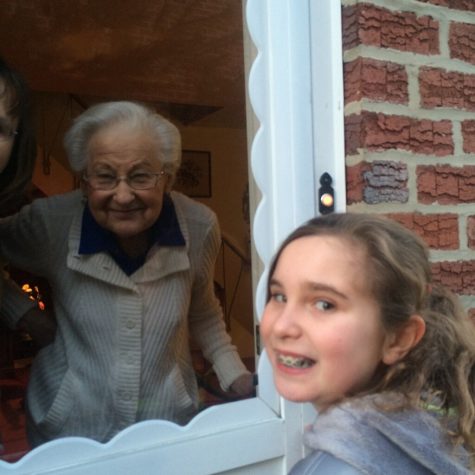 No matter what we celebrate, the holiday spirit cannot be diminished, despite the loss of tradition over years. "I celebrate both Christmas and Hanukkah," said junior Marissa Skopp. "As time went on, our traditions got lost since my grandparents died. But we still get to see my family who fly in from out of state for the holidays." This year, Marissa has still made it a point to see her family, even if it may not be in person. "On the first night of Hanukkah, we hosted a Zoom call with my family. On Christmas, we plan to do the same thing. It is not the same as seeing them in person, but it is still memorable nonetheless."
Most important of all, the holiday spirit is stronger than ever before. "No matter what happens, you can have a great holiday as long as you have your family to celebrate with. Yeah, gifts might not be as plentiful this year, but we still have our family and friends, and that is what is important," said Marissa. 
Regardless of what you celebrate, I hope you have a wonderful holiday, a Happy New Year and a safe and healthy break! 

Loading ...
Leave a Comment