Spotlight: Jamie O'Neill
Sophomore Jamie O'Neill is off to a fantastic start in his first varsity season. Coming into the season, Jamie didn't wait a second for his opportunity to fill roles of our previous dominant baseball team. As the current ace pitcher on the team, Jamie has thrown 39.2 innings, only giving up one earned run, bringing that to an unbelievable .176 ERA with a 1.008 WHIP. Along with that, with Jamie on the mound, you are guaranteed a win with his 6-0 record. His accomplishments on the field earned him a second-place win in the voting for the Philly Burbs poll, where the best 5-6 players are highlighted for their success at that point in the season. His election occurred the third week into the spring baseball season. 
As Jamie looks to continue his dominant performance on the mound, I sat down with him and got a sense for how he feels his season is going thus far.
Q: What were your goals heading into this season?
A: Going into the season, my goals were hoping to just be an important part of the team that helps out and to succeed in the spot that coach puts me.
Q: What do you think has contributed most to your success thus far?
A: The thing that has contributed most to my success is the work that I put in, not just in practice but outside of schedule practice.
Q: What is your approach on the mound? Approach while hitting?
A: My approach on the mound is to throw strikes, then do my best to make sure that they do not make good contact. My hitting approach is to find a way on base and if there is someone on, to move them over.
Q: Would you rather go 3-3 with two doubles and a single or throw a complete game shutout?
A: I would rather throw a complete game shutout because it gives the team a better chance to win and helps the other pitchers out by saving their arms.
Q: What do you do in the off-season to prepare you for the season?
A: In the off-season I do a lot of tee work for hitting, and I throw as much as possible to keep my arm in shape and strengthen it. I also stretch every day and try to run at least twice a week.
Q: What do you think about being in the running for Philly 'Burbs Player of the Week?
A: Obviously, I wish I came in first but am just happy that I was in it and got to be a part of it. It shows me that everything I'm doing and the work that I am putting in is paying off and if something like that happens again then hopefully, I come in first.
Leave a Comment
About the Contributor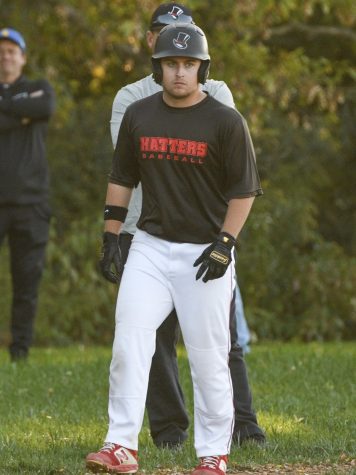 Stephen Plefka, Staff Reporter
Grade: Junior

Favorite school subject: Science

Hobby: Baseball

What you enjoy/look forward to with The Hat Chat: Writing about something new...