4.06 on 4/06
Rarely is the date so auspicious: on April 6, senior Brian DiCola ran a 4.06.58 1600m (just shy of a mile) at HH's Jim Kelly invitational. He set the record not only for fastest mile run on the HH track, but for the fastest mile by a high school boy in the nation. He held the record for nine days before it was beaten on April 15. 
Brian said, "My goal that day wasn't to get the record. I didn't actually reach my goal, which was to run three sixty second laps in a row. On the last lap, I decided to just do my own thing. It just happened. Everything came together." 
Brian's attitude in the race matches the theme of his journey with running. 
He said, "My dad ran in college (I've beaten most of his times now). So when I was younger, I biked with him while he ran. He never pushed me to start running. I decided to step up. My fifth grade teacher at Blair Mill, Mrs. Kiss, encouraged me to run with the Blair Mill Running Club and the Catholic Youth Running Program. My siblings all joined after."
Though he is committed to run cross country and track at Penn State, with a major in civil engineering.Brian does not see running as a career path. 
"Honestly, there are a lot of runners better than me. I'm in the top percentile right now but it's hard to be competitive in college and on the professional level. If I was able to do that, I would."
Brian would like to compete in marathons, though.
"The longest I've run so far is 16 miles. I love running that long, and most people don't. I have a better shot at being competitive in those races. I get bored when I'm not exercising. Even in my off season, I try to find ways to avoid being 'off,' like biking 50-milers in the summer."
Brian said that the cross country and track programs at HH helped him get to where he is today. 
"The meets we choose and the work we put in throughout the summer and the year combine to give us great runners and great times. Having friends around me to run with on easy days keeps me grounded. Cross country would not be worth doing if you ran alone every single day," he said. "And in track, we've been lead champs for three years in a row. Now we're aiming for a four-peat."
Brian wanted to leave off with: "Music is super helpful for running. I have a 'Hype Up' playlist on Spotify. I can't overstate how much music makes running easier for me."
Looking to the near future, Brian wants "to get as close to four minutes as possible for the full mile. On Friday, April 28, I'll be running the mile at Penn Relays. My other goal is to get a really good 5k in. I'll be going for the state record, 14 minutes and 18 seconds."
Even if date doesn't match his pace next time, Brian is sure to impress us all.
Leave a Comment
About the Contributor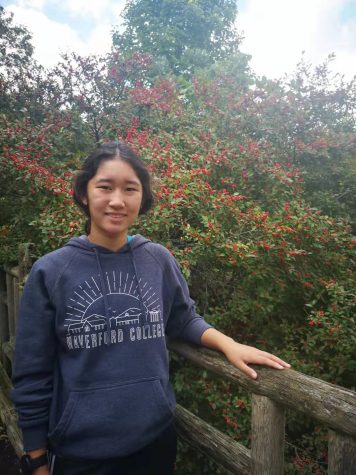 Lily Wu, Editor-in-Chief
Class of 2023

Favorite food: Mango

Favorite school subject: Literature/World history

Favorite animal: Bunny

Favorite part of being on The...