The Art of Expression
American painter Jackson Pollock once said, "Art is coming face to face with yourself." Student artists proved that on April 28 at the first district-wide art show since 2018, presenting an insightful and thought-provoking view into their own lives through their art.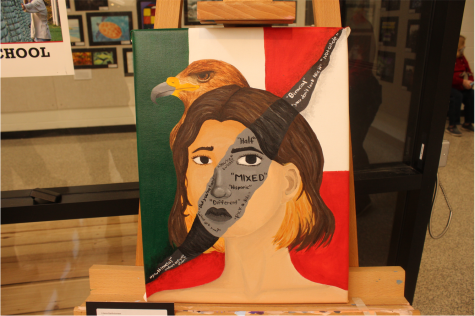 Freshman Liliana Bartholomew's painting was spotlighted on an easel by the entrance of the art gallery. In it, she depicted her struggle with her ethnicity.
 "I'm half Hispanic and half Polish. It made me insecure because I never knew what people thought of me. My whole life, people asked me where I was from. I grew up with my mom, who is Polish, and who doesn't look like me much. Someone once asked her if she was babysitting us," Liliana said. "The piece is split in half because I've never felt whole. I'm two different things."
 She said, "Art is a way to show my emotions. It can give a voice to a lot of other people who feel like this and bring light to topics. I've been thinking about becoming an art teacher, myself."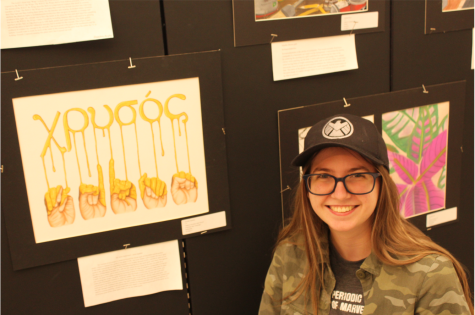 Junior Jenni Appleby's theme for her ASL project was myths and legends.
 She said, "I picked the concept and medium. I used markers for the gold and colored pencils for the hand. The Greek and the hands say Midas."
 Myths and legends interest Jenni. "I'm doing AP Studio Art next year, and I'm considering stories like Icarus flying too close to the sun, Hades and Persephone, Orpheus and Eurydice. I also like the King Arthur legends, like Lancelot and the Holy Grail."
Art teacher Ms. Leah Ellert said, "Jenni's artwork had a shout out from D Wills! He thought it was digital art."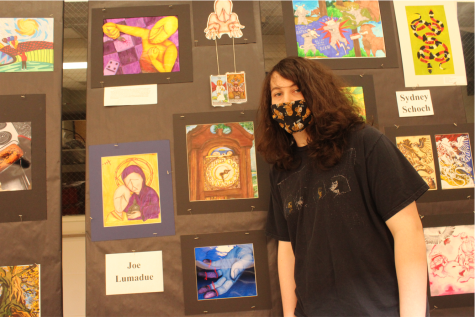 The topic that inspires senior Joe Lumadue is dementia, which he depicted in a painting of a clock.
 "It's from the perspective of someone with dementia," he said. "Doctors have you illustrate a clock to see how far gone you are. A recurring pattern in my series is dementia and its progression. It's personal to me because my neighbor has it; it's always fascinated me."
Sophomore Joelle Kernosh hid messages in their artwork.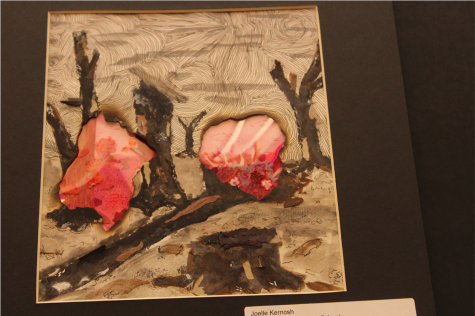 "I have hidden stuff, slips of paper with a map to a treasure," they explained. "Rose colored glasses to see through to the lively forest. I want to do something with layering to show there's a deeper side, always a bright side."
Joelle's work was put into a show in Blue Bell and won.
Junior Erin Beck focused on a plant with a double message.
"I had multiple ideas and I originally wanted to think of plants that could kill people," she said, "American mistletoe can cause a lot of damage to your body–seizures, cardiac arrest. I wanted to show how it's so romantic and lovely but can kill you if you try to eat it."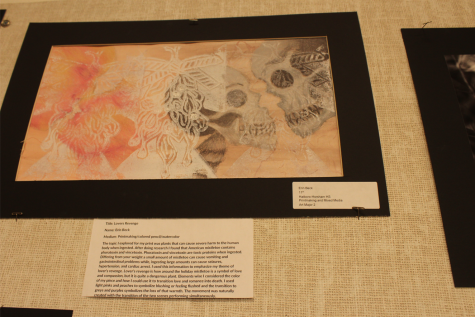 Erin enjoys the outlet art can give her. "I want to minor in art therapy or art. I like taking time for myself, listening to music and I get something cool out of it, like this."
Senior Claire Roper displayed her ceramics.
"I am awful at painting and drawing," she said. "What I like about ceramics is that it's functional art. I'm really into that, having two different uses for it."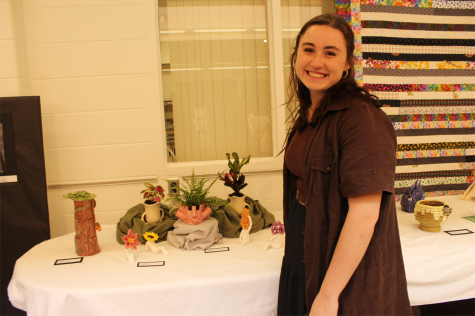 Art helps Claire focus on one thing. "Art is something to slow me down, cause life is so fast paced. I stick to a nature theme; I'm going to be an environmental science major."
Freshman Addison Hornby enjoys drawing.
She said, "There's nothing behind it. I was struggling to find an idea, so I thought of a dolphin and banana because they are the same shape. I draw a lot, but not a lot of mashups like this. I usually draw people."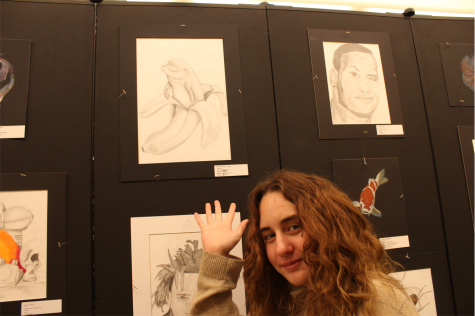 Addison is also considering different kinds of art. "I'm considering doing something with art after high school. I am taking comic book art next year and I am also considering fashion and music, but I'm not sure I'm good at it."
Assistant superintendent Dr. Monica Taylor was amazed by the artwork presented at this show.
"I am absolutely overwhelmed by the immense talent that is drifted in all of the artwork created by students at HH, grades K-12," she said. "The creativity, the originality, the expertise. It's also nice to see so many families that have come to this special event."
Dr. Taylor expressed how happy she was to be having this show again, after having to cancel it previous years due to COVID. 
"Not only are we able to see the beautiful artwork, we're also enjoying the instrumental creativity of our young performers. It's creative and performing arts."
Leave a Comment
About the Contributor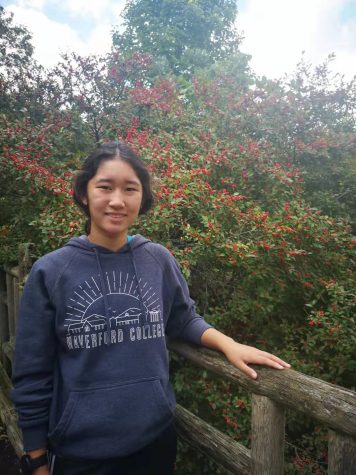 Lily Wu, Editor-in-Chief
Class of 2023

Favorite food: Mango

Favorite school subject: Literature/World history

Favorite animal: Bunny

Favorite part of being on The...