A Tale as Old as Time: HH Theatre Produces Another Great Show
Hatboro-Horsham Theatre Department's production of Beauty and the Beast this past weekend was a success! 
Sounds of the iconic Disney songs of "Tale as Old as Time" and "Be Our Guest" filled the auditorium this Thursday, Friday, Saturday and Sunday as people from all over the community gathered to enjoy the show.
The incredible performances of the two actresses cast as Belle, junior Audrey Kim and sophomore Hope Jacobus, and of the actor who played the Beast, senior Aidan DeNardo, and everyone involved left the audience truly enchanted.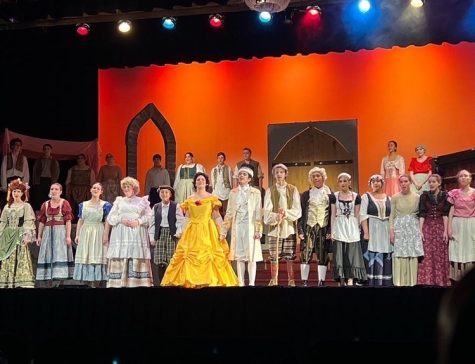 Both the cast and crew have put a lot of time and energy the past few months into learning their lines and preparing for the show.
Junior George Gomez, who played Lumiere, said: "This show in my experience was one of my greatest shows I've ever been in. Yes, it's a lot of hard work with memorizing lines and being able to perform with certain emotions, but it's all worth it in the end when the audience appreciates your hard work and you make people have connections with your character!"'
Audrey said, "As always, it was a lot of work, and definitely stressful at times, but all worth it. There were a lot of things that were done at the very last minute, but it all worked out for the better."
This show felt special to the cast and crew, who grew to be close friends after many long nights spent together practicing.
Senior Amanda Le, part of the stage crew, said, "My favorite part was building the set and being able to work with all the freshmen and getting to know them and work on projects with people that I wouldn't talk to normally."
Junior Sarah Staley, who was a dancer and also played a shepherd, said, "I had a great experience with the last show. I had such a fun time and met so many great people and can't wait for next year's shows. My favorite part of it all was meeting so many new people and being able to have a good time with my friends while doing something we were passionate about."
Audrey said, "I had so much fun being a lead, and working with Hope was great. It was nice to know someone was going through the same things as me and we were able to help each other with things like lines."
George said, "All the people and directors and everyone were so friendly and supportive of one another, the environment was just splendid. As for my role of Lumiere, I had so much fun exercising a French accent and being so energetic in almost all of my scenes!"
Many of the actors and actresses this weekend got to use a funny accent, including senior Miriam Worley, who played Fifi, nicknamed Babette. She reflected on her experience:
"This show has been very amazing. I haven't worked with a big group of actors in such a long time because of the pandemic!"
Miriam is a special member of the cast, as she played a hand in both choreographing and playing in the show:
"This is my second time choreographing one of our shows, and I love getting to work with such a hardworking group of people. I did both stage crew and acting, and being a part of many aspects of bringing this show to the performance was very inspiring."
Although this performance was 'beautiful,' the 'beast' of the pandemic made it so that this was the last of only a few theatre productions for the graduating seniors this year.
Senior Ava Nociforo, who played Mrs. Potts, said, "My experience with this being my last show has been bittersweet. I was very, very excited to do Beauty and the Beast, as it has always been one of my favorites, but knowing it would be my last HH production was bittersweet. This show has definitely been harder than most because I had a lot of school work to manage, club work to manage, and challenges to overcome, but I could not be prouder of the results. I worked really hard with this show because it was one of the hardest singing and physical roles I ever had to play, so to have gotten this experience for my last show has truly been a blessing."
Amanda said, "It was very fun, but also bittersweet. This was my 2nd full show in my position in the crew and my first time as a stage manager (I was assistant other times). It was really fun in that sense but it was also sad that this was my first and last time calling a show."
Senior Nick Giandomenico, part of stage crew, said, "It was fun. Beauty and the Beast is a sweet show; I thought it was a nice wrap-up of everything. It was a good closure to my theatre experience."
Audrey said, "It was so great to be back on stage after quarantine. I haven't been on stage since freshman year. Theatre was one of the top things I missed during quarantine, and so to finally be back is like a dream. Overall, just the feeling of standing back on stage under a blinding light was exhilarating. I can't wait for the final two shows of my high school career."
Congratulations to another well-done show, HH Theatre!
Leave a Comment
About the Contributor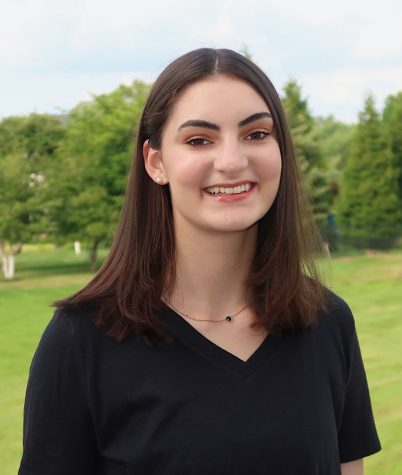 Ella Warden, Copy Editor
Grade: Senior

Favorite school subject: Computer Science

Hobby: Rowing

What you enjoy/look forward to with The Hat Chat: Meeting new people and...