The Show Must Go On–Puffs, or Seven Increasingly Eventful Years at a Certain School of Magic and Magic
In a world riddled with elements set against you, it is a heroic feat to come in third place in a competition of four. Told from the perspective of "not everyone's favorite" wizard house, the theater department produced a remarkably hilarious show on Dec. 9 to Dec 11, featuring playwright Matt Cox's 2015 play Puffs, or: Seven Increasingly Eventful Years at a Certain School of Magic and Magic. It tells not the story of "the boy who lived," but a rather unremarkable boy – a hilarious parody of the series featuring the boy with the scar.
Lead Wayne Hopkins of New Mexico, played by senior Matthew O'Donnell, is placed into the Puffs by the Sorting Hat, forms a trio with Oliver, an awkward math savant played by senior Eric Bromberg, and Megan, an angsty goth played by senior Ava Nociforo. Stuck together in a group of palpably awkward outcasts, they grow to embrace their unique identities and be proud of who they are – the Puffs.
After being away from the theater for 622 days since the closing of the production of Little Shop of Horrors, the whole cast, crew and audience were thrilled to be back.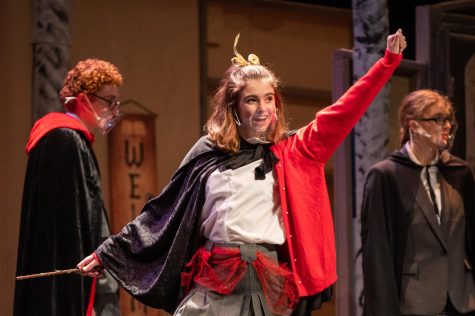 Junior Taylor Furness, who played the ditsy Puff Leanne said, "This was my first time performing in two years. It was such an amazing feeling, stepping onto the stage again and getting to do what I love the most. I'm just so happy that live theater is back!"
Senior Tom Halko, in charge of sound design and FX, said the same: "Being back for an indoor performance was incredible. You could tell by how the actors performed and by the audience's excitement that everyone was happy to be back."
The theater department did a great job accommodating the lack of an in-theater performance last year with the show Songs For a New World, held outdoors. However, that does not compare to standing on stage.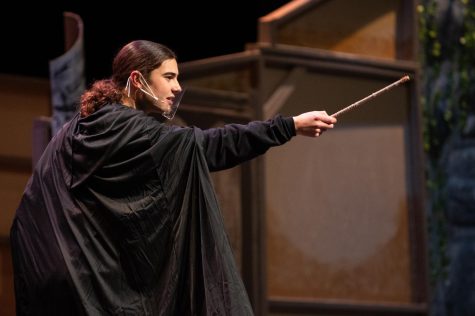 Matt said that "being able to perform in person was a very special experience after so long. I loved sharing one of my passions with others and giving them some entertainment. Live performances are a completely different experience compared to online ones; when the lights are up, the microphones are live, and you are about to walk on the stage, there is a wave of excitement and satisfaction that you don't get from online or outdoor performances."
The lead trio was played by seniors this year, and they were all glad to perform on stage for one of their final high school shows. Not only were they friends in the play, but also in the non-wizarding world.
Eric said, "My last show was Little Shop of Horrors way back in fall of 2019! Being a lead this year was a blast because it gave me the opportunity to really work hard on a part. This was a tricky show, so I made cheat sheets with my cues, what props I needed, my costume changes, etc. It was also really nice working alongside my longtime friends Ava, Matt, and Hayley, who have all been with me through theater."
While the audience watched the cast play out their impressive performance, what they didn't see, at least directly, was the stage crew hard at work behind the scenes.
After the simple outdoor set of Songs For a New World, the crew pulled out all the stops and produced a completely student-made set. After spending two hours after school every Monday, Tuesday and Thursday till 4:15, and staying till 9pm in the two weeks prior to the show, they created a beautiful scene of the wizard school, complete with interactive moving pieces, precise cues and sounds and elaborate lighting.
Senior Brianna Woods, part of lighting design said, "Stage crew did really well with adjusting to new challenges and overall did a great job. There was a scroll that needed to be dropped from the ceiling, and each night it went like clockwork. On Friday night, we had a mishap where Siri came on over the sound system, but honestly, it worked with that particular scene. It just added to the overall chaos and fun."
The theater department had an expert at their disposal: Brianna had won first prize in the lighting challenge at last week's PA Thespians Conference. She said, "The lights that we designed were very exciting in this show. The green flashes and house lights were some of my favorite lighting moments."
Tom said, "This show was very heavy for stage crew and tech, so some of us had a few struggles. I was in charge of sound effects, which ended up having around one hundred eighty to two hundred cues through the whole show. It was hard for me to keep up with giving actors their signals."
Despite their challenges, they were able to pull together and create an amazing show.
"At the start, things were a bit rough, but everyone managed to work together and push ourselves to be better, and it showed when the time for performance came. The crew put so much hard work and dedication into the show. I am so glad that people enjoyed it," Tom said. 
One reason the audience found the show particularly funny was its explicit language and mature themes. The cast explained that they were slightly worried about performing the language and innuendos to their families and the faculty members, but it ended up being a lot of fun.
Sophomore Hope Jacobus explained that this was quite the jump from middle school theater to high school theater. For the freshmen and sophomores, this was a whole new learning experience. 
She said, "It was great to get feedback from many people. Many people struggled with pacing. It was hard to understand some actors and some jokes didn't land because they were delivered too quickly. However, with practice, we pulled it off.
"Although this show had adult themes, I felt that we were able to stay mature and still be funny. It was really cool seeing that the high school could do such a show, especially compared to those held by the middle school."
Junior Emily Dougherty, who played Professor Sproutty, said, "Everyone did very well getting into their characters, which can be tough, but everyone made their characters their own. The entire cast and crew are very talented, and I am just so proud of us."
In addition to their performance, everyone did a great job with the many COVID precautions that had to be kept in place. Rather than using the regular face masks that were worn last year during the outdoor performance of Songs for A New World, the cast received plastic ­transparent masks. A few cast members complained that the plastic was pretty uncomfortable against their chins and that it did not feel as protective as regular masks. Despite the struggle of the sliding masks, the audience received the full viewing experience by seeing performers' expressions. Some audience members even commented that they did not realize they had masks on!
Junior Emily Dougherty, who played Professor Sproutty, said, "I rarely saw someone with their clear mask off. Using them as an alternative to the regular masks looked really good on stage. It was definitely the right choice."
Junior Sreeprada Alladi, who had her first theater role as Ms. Babble, said, "It was so fun to be a part of the show, and I met some amazing people who I never would've otherwise. As for the show itself, it was an unforgettable experience. From reading the script to performing in front of an audience, I loved every aspect of it and hope to do more in the future."
Matt said, "I hope that the audience was able to interpret the show and learn a lesson about the importance of friendship, embracing your true self and not taking things too seriously. I hope they got some laughs out of it too!"
The cast and crew expressed their appreciation for the whole department and the experience they got out of it.
Eric said, "I have learned a ton from theater! The best lesson it has taught me is how to let things go. Mistakes will happen, and that's okay!"
The Puffs were hoping for "third or nothing," but they definitely made first in the audience's eyes.
Leave a Comment
About the Contributor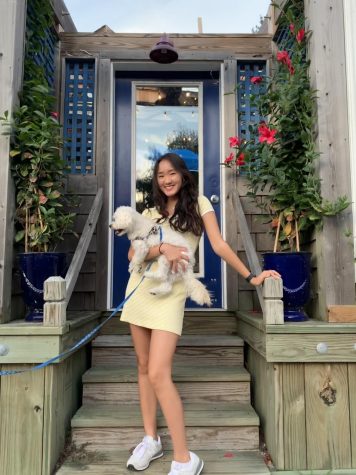 Audrey Kim, Staff Reporter
Class of 2023

Favorite food: Dark chocolate

Favorite school subject: Music

Favorite animal: Monkey

Favorite part of being on The Hat Chat: Writing...