Finishing Strong in Cross Country
As fall sports drew to an end, several cross country runners went out with a bang of the starting pistol.
Three runners ran in the AAA State Championship in the 5 kilometer (or 3.1) mile race on Nov. 11. Senior Devon Comber earned second place with a time of 16 minutes, and 10 seconds. Sophomore Brian DCiola placed 16th with a time of 16 minutes, and 48 seconds. On the girls side, sophomore Emily Simko placed 24th with a time of 20 minutes, and 11 seconds.
Several more runners ran in the District 1 AAA Championship on Nov. 2. 
As a team, the boys' varsity, consisting of sophomore Joseph Acton, senior Kevin Allen, senior Ben Clarke, senior Devon Comber, sophomore Brian DiCola, senior Tyler Kirn and senior Zach Ryan qualified.
Four individual runners – including the three state-qualifiers – also ran in the district championship.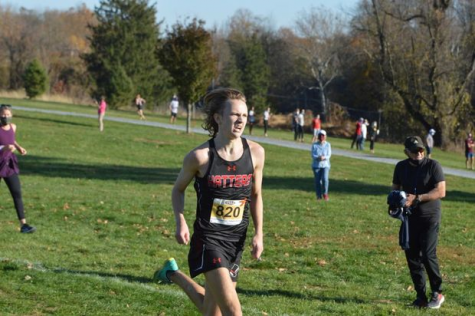 Senior Devon Comber placed second, with a time of 16 minutes and 24 seconds.
"Looking back, it's crazy how quickly the four years have passed by. Cross country was definitely different [this year] but I never let Covid keep me from being the best runner I can be," Devon said. "The medals are awesome; however, they aren't what keeps me coming back. The pride and excitement in competing and winning with the team and winning solo is what brings me back."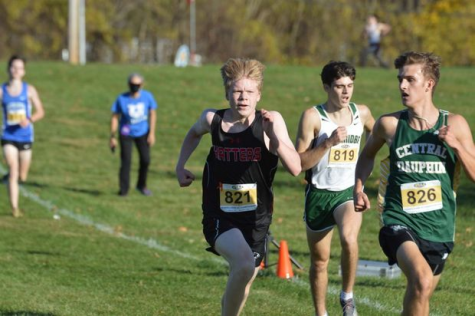 Running alongside Devon was sophomore Brian DiCola, who placed sixth in the District Championship with a time of 16 minutes, and 48 seconds. He was the only underclassman to finish in the top 20.
Brian said, "When I saw that I was the only sophomore surrounded by a lot of seniors [on the state championship finish list], I was like 'oh!' It really motivates me for future seasons. My goal is to win states one day."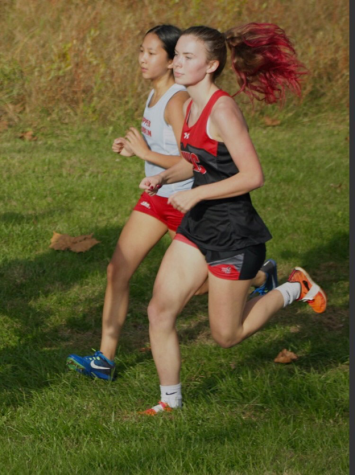 On the girls team, freshman Rose McGee placed 102nd with a time of 23 minutes, and 14 seconds at districts.
"I wasn't sure if I would qualify for districts, but my coach really pushed me and during my last race, I heard someone yell, 'You're going to qualify if you stay in front of those girls!' I really wanted to stop but I just kept going, and I'm really glad to have qualified," Rose said. "In the next few years, I think I can make a lot of progress. I'd definitely like to make it to states."
"Rose ran really well at districts," sophomore Emily Simko, her teammate, reflected, "especially with having qualified as a freshman, which is impressive."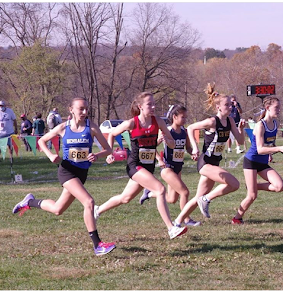 Emily herself placed 13th in the District Championship with a time of 20 minutes and 14 seconds.
Emily said, "That really meant a lot to me. In the summer, I didn't even know if I'd be able to race, because I was working through injuries, and I honestly didn't think that I would make it to States this year, much less medal. I'm really grateful for my coaches and my teammates for supporting me this season." 
Leave a Comment
About the Writer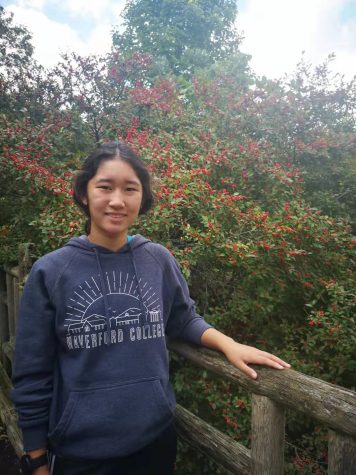 Lily Wu, Editor-in-Chief
Class of 2023

Favorite food: Mango

Favorite school subject: Literature/World history

Favorite animal: Bunny

Favorite part of being on The...