The Successful Science Fair
For the first time ever, the Hatboro Horsham Science Club organized a district-wide science fair!  With students from all over the district from all different elementary schools, the turnout was a huge success.
Since this was the first district wide Science Fair we've ever had, I didn't have too much to work with on prior knowledge alone, so I had to throw myself out there to see what this was all about.
This fair was on Saturday, Feb. 25 starting at 12:00 p.m. I got there a little early to get some information about the event.
The first person I interviewed was the president of the Science Club, senior Selda Oksuz. I first wanted to get her opinion on what the fair was really about and she said, 
"The Science Club wanted to do the fair to be more interactive with the community and bring more science and STEM exposure to the younger members of our district."
Science and STEM are both important subjects to introduce kids of a younger age to, since so many fields have those characteristics in them. Getting a kid involved with STEM early can be great later down the road. Not to mention, it's just fun learning.
Selda said she was in charge of organizing the event, reaching out to people, getting participants in the event and also oversaw the whole thing along with chemistry teacher and Science Club adviser Mr. James Leddy, who I interviewed later.
In regards to all of this, she said "This is the first time the fair has ever been district wide so I'm hoping it will go really well."
"We tried to make this be super exciting, interactive and engaging for the kids. This is something that shows that high schoolers love to be involved, and hopefully this will continue next year and we will have much more participation."
Selda was not the only one overseeing. Mr. Leddy, who sponsors the Science Club, runs practically the entire thing with help. He is "in charge of everything from the snack bar to activities to the elementary school fair component; we are running the event."
He also tended to agree with Selda, saying "We are hoping this is an annual tradition at HH, and we are starting it off at year one; hopefully at year two it will be just that much better. I think turnout will be good, hopefully, we'll see soon."
Lastly, I interviewed senior and Science Club treasurer, Cecily Battaglia. Her opinion, as I expected from the treasurer, was money oriented. It was unique in that regard.
She said the reason we had this fair was, "This is our big fundraiser for this year, for the first time. We noticed we didn't have as much money as we wanted to be able to have experiments and go on field trips, so in order to make that money, we did it in a way that involved the kids in STEM."
When making and running clubs, you have to keep finances in mind. A treasure's opinion on the fair is valuable since they are behind what it takes to make the clubs interesting and fun.
Some time passed and now kids were setting up their projects. I got to see some really cool ones, starting with fourth grader Elise Alexander from Crooked Billet Elementary. Her project was demonstrating currents in circuits.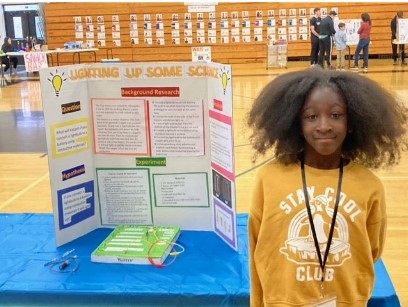 When asked where she came up with the idea, she said, "I just like combining wires together and making things light up. As you can see here, I have common questions and answers as well as my materials listed out."
I also asked her if she had anything she wanted to say personally about the fair and she said, "I really like how everything is set up so you can test out their experiments and observe, you can also see what the high schoolers made too. I'm excited to be here."
As shown in the picture, Elise's experiment was all about conductivity with wires. She had lightbulbs and ductile copper and batteries to make the whole thing work.
The next kid I interviewed was fifth grader Mallack White from Blair Mill Elementary. Mallack was interested in robotic prosthetics as he said the experiment was, "how our normal hands could relate to mechanical hands in the future."
He said he got this idea from being confused on how clawed robotic hands would work. He looked into it and said, "I saw a video on how this boy was born without a right hand. In high school, other people who didn't know him decided to help him out with a 3D printed hand. That video inspired me to see how living with that type of hand would feel like."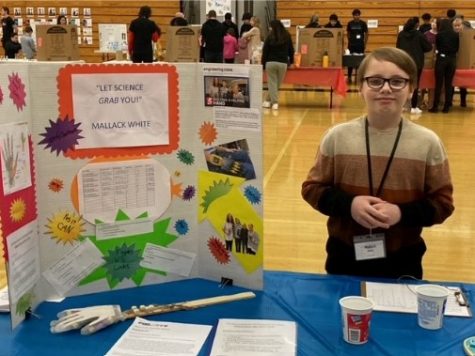 He also wanted to add that, "I was at first stressed to come here because I am not very good with people, but I'm having fun here explaining my project. I'm glad I took the risk."
Mallack had diagrams showing what your hand is made up of and even had a little demonstration with a claw toy showing what living with a mechanical hand would feel like.
Finally, I interviewed Lilly Pacitti, a fourth grader from Hallowell Elementary. Her project was demonstrating the difference between a catapult and a trebuchet.
She said, "The trebuchet and the catapult both were measured for distance. The catapult went farther because there was more tension held back on the spoon it's made out of. My dad helped me come up with the idea for this project."
Lilly wanted to demonstrate how tension works in real life. If you were in medieval times, you would want to opt for the catapult.
Overall, this Science Fair was a huge success. With a high turnout and a profit of $170, I would be surprised to see this not come back again for a second time. From what I picked up from the fair, the main money maker was the snack bar and the ticket raffle, which consisted of candy boxes for the kids.
I would imagine this is coming back next year, so for everyone who missed it this year, next year you should come visit the Science Fair. It was a lot of fun, and it is totally worth going to.
Leave a Comment
About the Contributor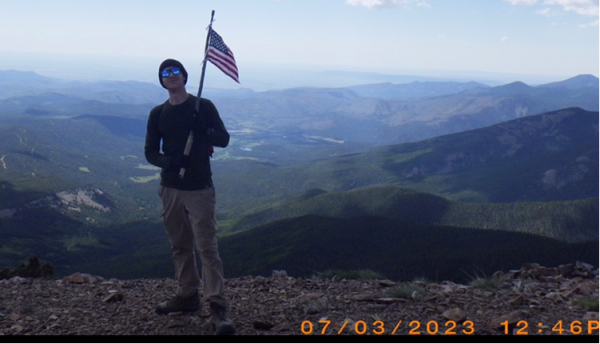 Matthew Salvatore, Editor in Chief
Grade: Junior

Favorite school subject: AP Gov

Hobby: Guitar, gym, Track and Field

What you enjoy/look forward to with The Hat Chat: I look forward...