Guest: Turkey-Syria Earthquake
The worst possible feeling is not being able to do anything, no matter how much you want to. Panicking, dark, and a bit too early in the morning for anyone's brain to function, I woke up to the frantic voices of my parents on the phone with family members. It was the morning of the first earthquake that hit southern Turkey.  
On February 6th, southern Turkey and northern Syria witnessed a 7.8 magnitude earthquake. This spans the distance from Philadelphia to Boston. Almost a month later, thousands of people are still hidden under the demolished buildings in the bitter cold, assumed dead. Later, on February 20th, another 6.3 magnitude earthquake hit the Hatay province of Turkey. There are now about 40,000 confirmed deaths. Millions of families have been affected, becoming dislocated from their homes, and even leaving behind loved ones under the rubble.
I have cousins that live in Maraş, one of the affected provinces. Thankfully, they are now fine but had to move out of the area. As I scroll through Instagram, I see countless posts listing names of people whose whereabouts are unknown. These posts were from my cousins and family friends, who are around my age. They were searching for their friends, who are teenagers, just like students at HH. The only thing I could do to help was reposting awareness posts on my Instagram. That's it.
Among my Turkish family friends in America, everyone was in a hectic state. From controversies about politics to not being able to reach out to loved ones, it was the only thing on our minds. I knew family friends who worked for relief agencies, doing their best to gather donations to send over. As I was sorting through my own closet, looking for items to give to a relief agency, I received a text message from one of my good friends, Lily, who asked if our school could put together a donation drive or fundraiser.
It was an amazing idea, so I immediately said yes. I reached out to my friend who closely works with Embrace Relief, a nonprofit that works to provide humanitarian aid across the world. With MSCA, a four-to-five-member group of students, and our adviser, Ms. Krier, we put together a donation drive within a few days.
Mrs. McElrath brought to us the idea of using Teacher Dress-Down Days as a method to raise money. It was an incredible idea as we were able to raise $650! Meanwhile, we placed boxes in certain locations to collect winter clothing and blankets. On March 2, after school, volunteers stayed to help pack and sort these items into boxes. It was a success! We packed around twelve boxes worth of winter donations!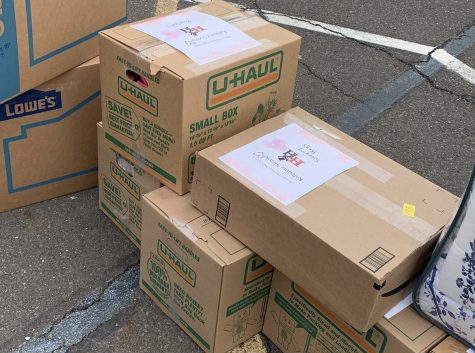 The overwhelming support was incredible. Although we are continents away from Turkey and Syria, HH and MSCA were still able to accomplish so much! That dreaded feeling went away, knowing our achievements for aid, right here in Hatboro-Horsham. It also shows how our HH community is always willing to be there for others. Along with MSCA, I am beyond grateful for the support HH gave. These clothing boxes will help so many people who have lost their personal items and homes.