Damar Hamlin Injury
On Jan. 2, we saw not only the National Football League but the world unite together in prayer for Buffalo Bills safety Damar Hamlin. Hamlin suffered a heart attack in the first quarter of the highly-anticipated Week 17 matchup against the Cincinnati Bengals after making a tackle on an opposing player. After the tackle, Hamlin went down right away, without a pulse. Heroic first responders acted right away, regaining a pulse before Hamlin was sent to the nearest trauma center. His teammates and opposing players all stood around the ambulance, some crying, as their teammate was sent away.
The sports world gathered in prayer for Hamlin and his family. In powerful fashion, across the NFL, every team lit their stadiums blue for Hamlin. Sports analysts only talked about Hamlin, as his recovery was the only thing that mattered. At the end of the day, the NFL are just games, but human lives are the most important thing above all.    
There was nothing but silence regarding a status on Hamlin for about a day and half, until the fortunate news came out that Hamlin had awoken and was in great mental shape, with no clear signs of neurological damage. Although he had to breathe through a tube, he was able to communicate through pen and paper. One of the first questions he asked was, "Who won the game?" His doctor responded, "You. You won the game of life."
Hamlin continues to get better and better by the day, but still remains in critical condition. He was able to FaceTime teammates thanking them for their prayers and also sent a tweet out to all those following in hopes for good news.
Since his injury occurred, his charitable fund, Chasing M's, created for helping deliver toys to kids in need, surpassed $8.5 million. The original goal for the charity was $2.5 thousand.
The injury occurred in an extremely rare way. When Hamlin tackled the opposing player, tackling him, Hamlin landed on his chest in perfect rhythm between heart beats, causing his heart to stop pumping. This injury also occurs in baseball with catchers as well as hockey players, but rarely happens. This is the first time ever that something this extreme has been seen in the NFL.
Many questioned player safety before Hamlin went down, now more are questioning it. This year, like every other, has had its fair share of injuries. Earlier in the year, Dolphins QB Tua Tagovailoa suffered a scary head injury, going down and reporting a "fencing response" in which the person's body becomes extremely tense. Since then, Tagovailoa has had three concussions, all in the same season. Retired players all around the league expressed their roles in the league when they were active players, saying they were more than just athletes, they were vulnerable human beings. Everyone can agree that the National Football League is not the safest sport, and people want to make sure that the game becomes safer. 
One of the biggest ways the game can become safer is the implementation of technology in player equipment. Players equipment can have sensors and other various recording technologies to track how injuries might occur in players. All this data can allow professionals to understand how the most typical injuries occur and maybe even implement rules and strategies to avoid them. 
The biggest concern of all injuries is involved with the head. Helmets are becoming more advanced year by year, but head injuries still continue to occur. Unfortunately, when you sign up to become a football player, there is always going to be consideration about injuries. Football isn't going to be safe until you remove the extreme physical contact that ensues, which I know everyone agrees that you can not remove tackling. It is sad to say, but, if you are going to play football, be mindful of the injuries that can occur. No one is 100% safe when playing football, and this Damar Hamlin injury really showed all of us that.
Previous players went around the league mentioning the same thing: injuries are a part of football, and they will be until the game comes to a close. They accept it, but they still continue to play. They all see it as a downside to the game, but are still willing to risk their bodies to go out and play. Football, as it should, continues to push for player safety, but as of right now, the game of football will never be considered safe until tackling is removed, which it never will be. 
Leave a Comment
About the Contributor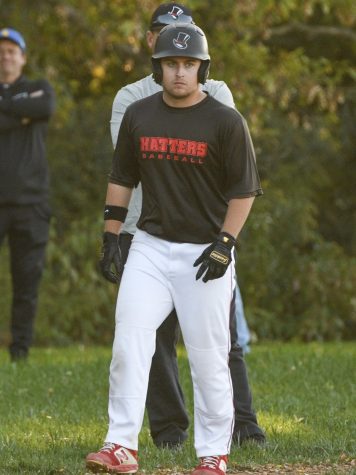 Stephen Plefka, Staff Reporter
Grade: Junior

Favorite school subject: Science

Hobby: Baseball

What you enjoy/look forward to with The Hat Chat: Writing about something new...