Meet the Masters
Watch out HH: a teaching couple has made their debut, impressing students with their teaching skills and possibly more so with their kindness and spunk. That and their colorful outfits. Meet the Masters: Mr. Charles Masters, the choral director, and Mrs. Ann Masters, the Senior English and Enrichment teacher.
And don't fret, their last names are not deceiving.
From Williamsburg, both attended the same high school without knowing each other. It wasn't until after undergrad that they met at a jazz gig where Mr. Masters was playing. Mrs. Masters said, "We were best friends at first sight, and we still are. We love hanging out. We love having fun." 
Before the interview, the Masters prefaced by saying that they finish each other's sentences. Each quote is a mix of their words.
Describing themselves as always "rockin out," they shared their teaching philosophy: "You have to be the most enthusiastic person in the room. We have to be vulnerable and authentic to encourage others to be vulnerable and authentic. And so far, Hatboro-Horsham has shown its willingness to be real – that is what we love about HH."
They are excited to continue to discover what this year has in store.
"We like new experiences, and we want to get to know the culture of HH. It's especially exciting to have some continuity compared to the last few years. While each year is its own 'normal,' this year will have more of a flow. New space, people, colleagues, classes – we're looking forward to making new connections."
When asked about how they feel working in the same building as their spouse, they answered with, "Why wouldn't you?"
They explained, "Just being in the same profession has a lot of positives. We're able to be each other's source of creativity and inspiration by acting as mirrors, bouncing ideas back and forth."
Mr. Masters said, "Some days I'll ask, 'What do you think of this idea? Do you think it'll work for this class? What do you think is best?'"
Mrs. Masters replied, "Our contents are different, but we know each other and our passions well enough to give advice. It's a nice camaraderie."
Together they added, "Besides, you get to work with whoever you want to spend the rest of your life with."
Outside of school, the Masters have a wide range of exciting interests.
"We're both scuba divers. We like to move. We like to be out in nature exploring or even gardening."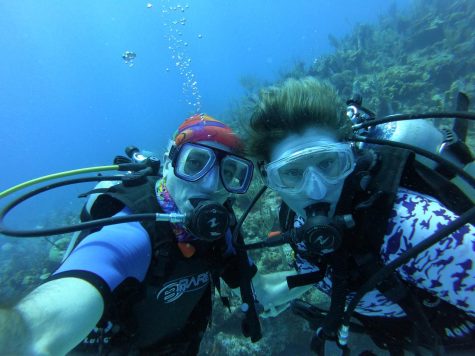 Mrs. Masters is a certified yoga instructor and Mr. Masters enjoys riding a scooter and skateboarding. (Unsurprising, from his signature Vans.) Laughing, Mr. Masters jokingly suggested skateboarding throughout the hallways.
"I think HH is a great skateboarding location, but I'm nervous to try it."
They have an Italian greyhound named Yoshi.
"We name our dogs after Mario Kart characters. There's Princess Peach, Luigi and now Yoshi."
If their charismatic teaching techniques and hobbies weren't already enough to stir some fondness, they ended with a lovely note.
"Our differences are what bring us together. We're very curious and lead with the benefit of the doubt. We know that we don't know some things, and we're learning every day. The most valuable thing that we've learned is to always stay open and curious and welcoming. We're all different, so just be you and don't apologize for it. It's an ongoing process, and hopefully, we can instill that by being here."
Mr. Masters is located in the C Wing and Mrs. Masters in H206. They encourage anyone to come say hi and "just chill!"
Leave a Comment
About the Contributor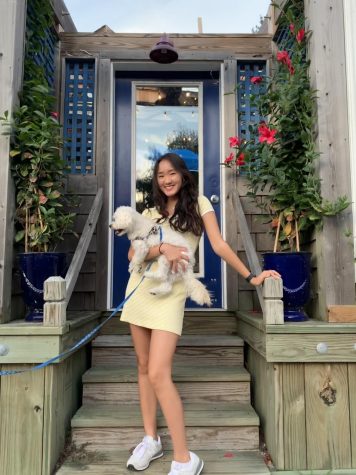 Audrey Kim, Staff Reporter
Class of 2023

Favorite food: Dark chocolate

Favorite school subject: Music

Favorite animal: Monkey

Favorite part of being on The Hat Chat: Writing...