Feed-a-Friend Food Drive
As STUCO'S annual Feed-a-Friend campaign kicks off this year, students are determined to feed families more than ever. Feed-a-Friend is set up every year at school and families throughout the community donate to feed other families within the community.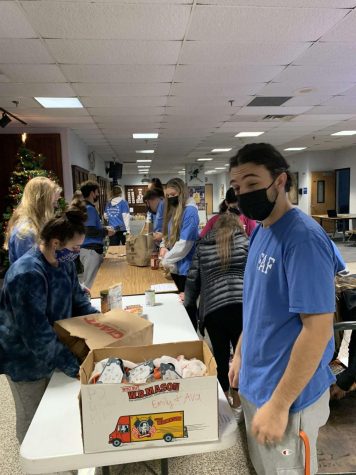 Many families have been especially impacted by COVID. Financial constraints have been particularly hard. With less money, people throughout the community are struggling to put food on their plates. 
Math teacher and Student Council co-adviser Mr. Greenberg said, "We're expecting to feed between ninety to ninety-five families. Since the initial start of Feed-a-Friend back in 2017, we were only feeding between forty to forty-five families. But since then, this program has grown more than double and we are almost feeding eighty families a year."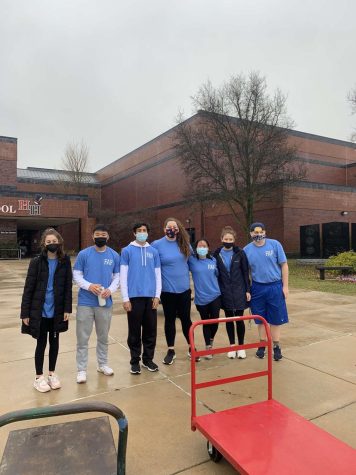 However, with COVID, Feed-a-Friend changed drastically last year. 
"Because of COVID restrictions on the number of student helpers we could have, there were only sixteen students total from the student council to do the sorting, boxing and packaging."
Mr. Greenberg said that was not the only change. "There were more monetary donations last year than food because people weren't shopping as much. Nobody really wanted to go outside."
But this year, with COVID restrictions loosening and school opening up again, Feed-a-Friend is back on track with new changes.
New positions have opened, including a social media manager and Feed-a-Friend heads. The social media manager this year is junior Adam Sherman, and the newly appointed Feed-a-Friend heads are junior David Benjamin, junior Sofia Colibraro, senior Riley Thornton and senior Faith Buccafuri. 
David Benjamin said, "As a head, I help organize the food and supplies that come in. I also help organize the collection dates and spread the word around for more donations. The other leaders and I also have meetings with Mr. Grady and Mr. Greenberg frequently organizes collection dates, drop offs and strategies to help increase donations."
With this season of giving and love, Feed-a-Friend will have teachers deliver the food on Dec. 23.
Leave a Comment