Marching Band Performs National Anthem at the Phillies Game
On Tuesday, Sept. 14, the marching band was invited to perform the national anthem at the Phillies game against the Chicago Cubs.
The performance was projected on national television.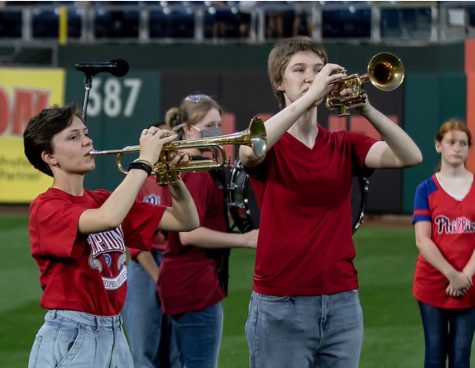 Junior and keyboard player Ariana Morgan said, "It was a once-in-a-lifetime opportunity. Not a lot of people get the chance to play the national anthem at the Phillies game on TV."
Senior and marimba player Tom Halko said, "The experience was very different from anything that our band has done since I started as a freshman. It was very exciting to be on such a big field in front of such a different area than we're used to. We are used to playing in just a basic high school sized stadium, being able to be in a stadium 10 times larger was crazy, especially seeing the size difference of the crowd we were playing for."
Marching band director Mr. Bobby Molloy surprised the students with the exciting news one day at practice. Whichever band sold the highest number of tickets to the game got to perform, and the HH group were the lucky winners.
It was a unique experience. 
Junior trumpet player Kaitlyn Stielow described, "We drove there in Upper Moreland buses, ironically. When we got to the game, we received our tickets, and went as a group under the stadium to prepare to perform. We were pretty nervous, but eventually walked out to the field and stood in an arc formation. They set up microphones so that the whole stadium could hear us." 
"We played, and we did so well. We then walked off the field and watched the game from our pretty decent seats, in the second level behind third base."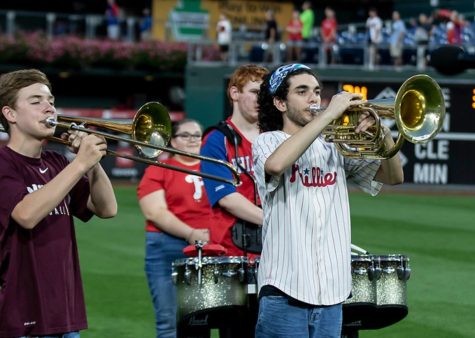 Kaitlyn said, "I'm not a big baseball fan, but going with the band of people I know and like was fun. It was cool to go out there and play the national anthem. I thought we had a good performance. We felt good going off the field."
Tom said, "Being asked to do something like this is an experience very few people get to experience, and for that, I am extremely grateful."
Congratulations to the marching band on a great performance!
Leave a Comment
About the Contributor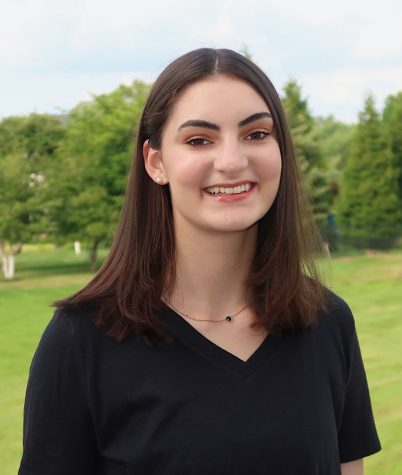 Ella Warden, Copy Editor
Grade: Senior

Favorite school subject: Computer Science

Hobby: Rowing

What you enjoy/look forward to with The Hat Chat: Meeting new people and...