All Are Welcome Here
All students have the right to feel safe and welcomed at their places of education; therefore, all students need to feel represented. Many peers, teachers and faculty members have stood for just that and have ensured that their community embraces every member. In a time when inclusion and representation is so crucial, the school district has stepped up to proudly show their support as an ally with the induction of a supplementary logo with the slogan, "All are welcome here."
The image includes the Progress Pride Flag, representing all members of the LGBTQ+ and trans community and people of color. The flag, designed by non-binary designer and artist Daniel Quasar, incorporates the Transgender Pride Flag (white, pink and light blue stripes) and the original rainbow flag. The triangle form of the added stripes represents the progress being made towards a more inclusive era where everyone is welcomed. The flag's black and brown stripes represent LGBT communities of color and those lost to and currently living with HIV/AIDS. The flag is shaped in a way to represent the need for forward movement, and that is just what Hatboro-Horsham is doing.
To be clear, this image is not replacing the HH hat logo as the official school logo. Rather, it is a mantra to reinforce what the district aspires to be. 
Superintendent Dr. Scott Eveslage said, "We aim for school to be the safest of places, where students, staff, families and visitors feel as if they are welcome and accepted for who they are and their own uniqueness. While our sense of community starts with a bond by our commonality in sharing a municipality of residence, it is strengthened by recognizing the variations that make our diversity a strength.
"Our fundamental purpose as a whole is to support students in meeting their full learning potential. To do so, students need to feel respected and dignified when in school. They need to know that their humanity and identity is being honored and that those helping them are supportive of who they are."
The school's Gender Sexuality Alliance (GSA) club was built upon the same mission. Even last year during the hybrid schedule, GSA's former president, senior Hayley Goldberg encouraged school-wide participation on the Day of Silence that the Gay, Lesbian and Straight Education Network (GLSEN) put in place to raise awareness of and end discrimination, harassment and bullying based on sexual orientation, gender identity and gender expression.
Current GSA president and senior JJ Miller said, "I think the new logo will help show people that our district is a safe space for the LGBTQ+ community, as well as discourage bigotry in the HHSD community. Upon first hearing about the logo, I was pleasantly surprised, and now I am eager to see how it will help the LGBTQ+ community throughout our district, and possibly even further."
The creation of this image was not part of a broader marketing or communication plan. Dr. Eveslage explains that while thinking of the year's goals, students' experiences were at the top of the administration's priorities, and it was this logo that came out of it.
He said, "I was working on a simple message around dignifying students that would capture both our school district's name, logo and a few welcoming works. It ended up being this simple image."
It started with a handful of postcards and lawn signs of the Progress Pride Flag Heart that resonated with many administrators and staff. After a leadership retreat over the summer, many administrators had asked for the image to hang around campus, and from there it took off.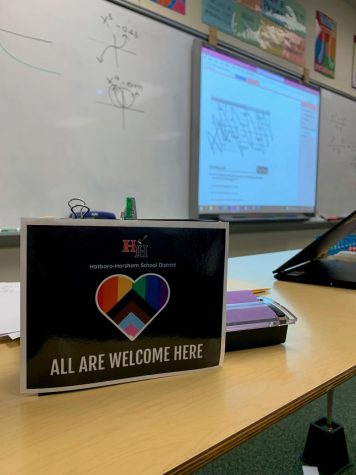 Dr. Eveslage said he speaks for the administrators, explaining that they expect the responses to this image to be positive. "Every parent or guardian wants their child to go to school and feel as if they belong and are accepted. Every student walks into school and yearns to feel safe, comfortable and welcomed. If this image can help in a small way to move us toward that, I would expect it to be received well."
Faculty members and administration have been spreading the logo throughout the district on bulletin boards and in classrooms. Support for individuality, inclusivity and education have never been stronger. 
Leave a Comment
About the Contributor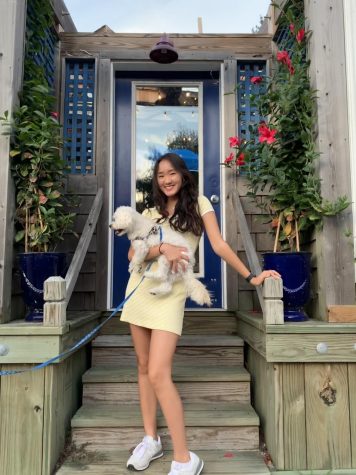 Audrey Kim, Staff Reporter
Class of 2023

Favorite food: Dark chocolate

Favorite school subject: Music

Favorite animal: Monkey

Favorite part of being on The Hat Chat: Writing...