Banded Together
It appeared to be a Saturday like any other for the indoor marching band. Inside the gymnasium, they ran through their show: cymbal players traversed the room, members of the color guard danced and bass drums featured. Yet, the camera filming the ensemble from the bleachers indicated that this was not just another practice.
On April 10, the indoor marching band competed in their first competition of their season.
Junior marimba player Tom Halko said, "Usually, we'd go to another school and be out until really late at night. This year, we rehearsed the whole day and took a video to send in. Our first competition happened a lot later than in usual years. It's usually in early March."
The indoor marching team placed fifth out of ten schools from Pennsylvania, Delaware and New Jersey.
"It was fun to see everything come together and to produce music, especially after practicing since late January," sophomore cymbal player Kaitlyn Stielow said. "But I think we can do better than fifth. We're filming outside now for better audio quality. I think we're definitely improving. Having to compete virtually isn't ideal, but it's the best we could do this year."
Senior cymbal player Taylor Crow voiced similar opinions:
"Of course I am glad to be back performing, but we weren't able to do a lot of the things that made competitions really fun, like traveling and seeing other groups perform. Around this time we would have been competing in World Championships in Dayton, Ohio. It does sting a little that we aren't there. I will always be grateful we even get to perform, but I just didn't expect my senior year of marching to be like this."
Sophomore Brynn Copman is a member of the visual ensemble. She said that she felt the competition was as good as could be expected. "As part of the color guard, we toss flags and sabers and rifles, and dance around the band. I think the competition went well. I'd rather things be like normal, but we do feel like a team and we all help each other out. We practice every time like it's a normal competition."
Tom is hopeful about next season.
He said, "Every indoor season, we go to the national final in Dayton. It's a whole four day show. I only got that my freshman year, so I'm really hoping that'll be back next year. With more people getting vaccinated, it's looking more and more like a possibility. I'm excited for that."
Leave a Comment
About the Contributor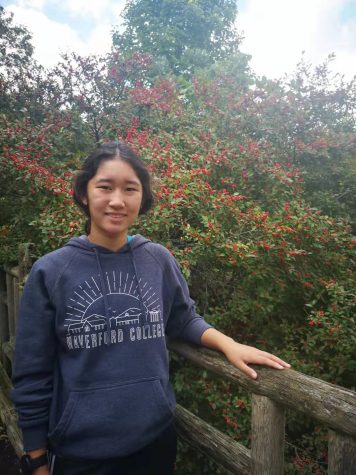 Lily Wu, Editor-in-Chief
Class of 2023

Favorite food: Mango

Favorite school subject: Literature/World history

Favorite animal: Bunny

Favorite part of being on The...