March 12th Comparison
On March 12, 2020, students experienced something never before heard of in their lives: a schoolwide closure for two weeks. That day, excitement and energy buzzed through the halls. Now, two weeks and 351 days later, the school halls remain barren, instead filled with one-way signs, few students and reminders to wear a mask. No one had anticipated that COVID would still be an issue one year later. 
The 2020 school year had begun like any other year: finals were approaching, winter sport teams were practicing for the upcoming season, student musicians were preparing for their annual PMEA festival, the theatre department was beginning their newest production and Red and Black was right around the corner. News of COVID-19 in Europe had only just begun to spread to the United States — a distant threat that many turned a blind eye to. In February, however, COVID concerns slowly arose. Reports of COVID cases in Washington quickly became national news; anyone who did not know what COVID was in January surely had an idea of what it was in February. Still, the threat was over 3,000 miles away from Pennsylvania, so schools continued with lessons as usual.
"There were some rumors going around the school about COVID, but I didn't believe them," said junior Sami Sienkiewicz. "My mind was focused on school, nothing else."
But come March, mild panic began to set in. Cases became more abundant, spreading from 3,000 miles away in Washington to only 200 miles away in New Jersey. Red and Black, scheduled for the week of March 3 that year, was even being questioned by concerned parents and students. Regardless, Red and Black commenced as usual, drawing in a large crowd packed into bleachers. Although COVID was on the radar, very few people suspected it would explode. Unbeknownst to students, Red and Black, one of the most anticipated events of the school year, would be the last event of the school year.
Cases, having reached Pennsylvania, were starting to rise, especially in Montgomery County. Simmons, due to COVID-19 exposure, was the first school to close on Monday, March 9. That Wednesday, March 11, the Coronavirus was officially named a global pandemic. 
"When I was so shocked when COVID officially became a global pandemic," said Sami. "I never thought a small virus could reach that extreme."
Finally, on Thursday, March 12, Governor Wolf held an emergency press conference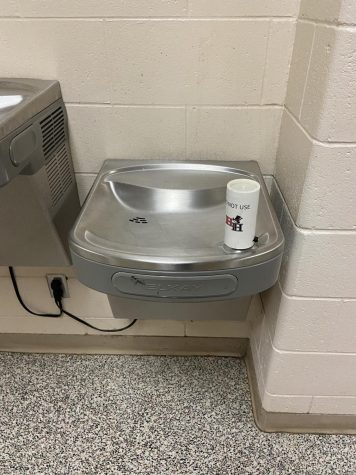 School guidelines restrict the uses of water fountains to stop the spread of germs.to discuss a potential closure of schools and businesses. Halfway through the fifth period, the verdict was in: all Pennsylvania schools would be closed for two weeks. Despite clubs and sports being suspended for that time, many students were excited for the break. And with Spring Break right around the corner, students were even more excited for their extended break. We were all naive that day, unaware that we would not return until November of that same year.
Friday, March 13 was the beginning of a yearlong quarantine.
"I was really excited when I found out that school was going to be closed for two weeks. But now, I am stuck at home with little to do. If I could take it back, I would," said Sami.
Unsurprisingly, March 12, 2021 looked vastly different from March 12, 2020. In 2020, students were not required to wear masks, could take any path in the halls to get to class, did not have to sit in assigned seats and were surrounded by 20 of their peers in classes.
Today, the opposite is true. In accordance to CDC guidelines, masks are to be worn throughout the entire school day, with the exception of eating or drinking. When going to the bathroom, nurse or office, students are required to "scan" out using a QR code. This is so the school can recount the whereabouts of the students constantly in the event of a COVID outbreak. Classes, once filled with 20 students, are now occupied with a handful of students and one large monitor.
Similarly, days are divided into alternating cohorts — cohort A on Tuesdays and Thursdays, cohort B on Wednesdays and Fridays and cohort C students remaining fully remote. On Mondays, students in cohorts A and B take turns going into the building, switching every other week.
"I think cohorts are a good idea because we can reduce the amount of students in the building," said junior Julianna Boland. "As much as I would love to have everyone back in school, we are safer with cohorts."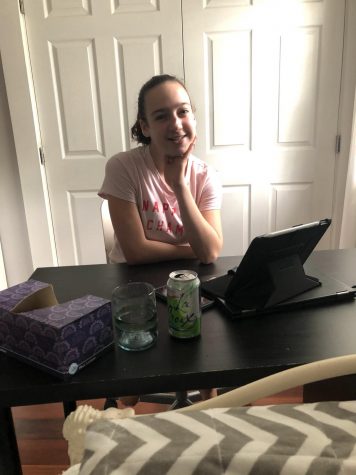 Furthermore, HATS has been reduced to only two periods, 3A and 3B. One is a dedicated lunch period while the others is HATS. For lunch, students are divided evenly among the cafeteria, auditorium and gym. HATS has also been restricted. Unless granted special permission, students are not allowed to attend another teacher's HATS. Instead, they must call through TEAMS.
"I don't mind having only two HATS periods, but I wish we still had a third," said Julianna. 
But perhaps the biggest change has been the creation of one-way hallways. To reduce hallways traffic, hallways and stairwells have specific signs indicating the direction students are allowed to travel in. Because of this, many students have to take longer routes, sometimes having to walk around the entire school just to attend one class.
"I have mixed feelings about one-way hallways," said Julianna. "I like that the hallways aren't too crowded, but I don't like how much harder it is to get to my classes. I had to walk through the F-Wing to get to an H-Wing class that was only ten feet away from me."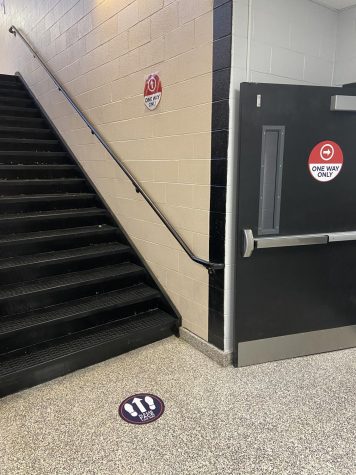 While not an ideal way to attend school, families are glad to see their children back in school. And fortunately, there have been some new developments that might restore some hope among students and faculty. On March 15, 2021, the school board decided that students who signed up will return back to school five days a week effective April 6. Additionally, many teachers received vaccinations on March 15, helping to reduce the rate of infection throughout the school. The high school even got approval for Red and Black to occur in May.
"I am so excited to return back to school for five days," said Sami. "There are so many friends who I can't see everyday because of the cohort separation, so seeing them everyday will be exciting."
 On March 12, 2020, students and faculty lost their sense of normalcy, but March 12, 2021 has begun to restore it. 
Of course, it is still going to be a while before schools can experience normalcy again. Masks will still be instituted, and specific events and activities may not get to run. But for now, we have a school year to look forward to, not one we hope to forget. 
"I am very hopeful that we will all be back soon," said Julianna. "With vaccines being pushed out and guidelines being lifted, I think normalcy is right in reach."
Leave a Comment