Gym Class in the Online Setting
Teachers were put in a challenging position this fall following the schoolwide switch to online schooling. Gym teachers, specifically, have had to greatly adapt their classes.
Similar to past years, gym classes are still held every other day for one semester. However, this year, classes are held virtually through Microsoft Teams and typically run for only 20 minutes. The rest of the 70-minute period is allocated for students to complete 3 assignments: a warm-up, workout of the day and main activity.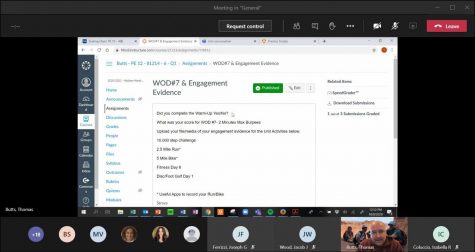 Students are given asynchronous warm-up exercises every period. Warm-ups typically include an assortment of fitness exercises, such as butt kicks, high knees and twisting lunges.
The second gym assignment is called the "workout of the day." This assignment is timed, and includes variations of squats, lunges, sit-ups and other strength-building exercises. Students score themselves based on the number of repetitions they complete.
The final activity is the main activity. Students are given a choice of the lesson they would like to complete. These lessons are a part of fitness, basketball, scavenger hunt or 10,000 step challenge units. The goal of the main activity is to make students more engaged by giving them the option to do something they are interested in.
Teachers said they are trying to make the best of the situation. Health and physical education teacher Mr. Nick Paci said, "Teaching PE from home is definitely an adjustment. It has been difficult not interacting with students face to face. Making demonstration videos for the exercises has been a good resource for students. I think the teachers and students have taken this virtual school and have tried to make the best of it. We are all working together, being flexible to make the best experience for us all."
Students said they like the flexibility. Junior Mia Houseman said, "Gym has been easier in the sense that you are allowed to do what you want for the activity and are able to work out at home."
To provide evidence that students did their main activity lessons, they must submit a 30-second video, pictures or screenshots showing that they exercised. Students video themselves from various locations: their backyards, family rooms, bedrooms or wherever they have space.
Junior Madison Dooley also likes having the ability to have some choice. "I'm really enjoying the online gym. We get to choose our lessons; one of my favorites is the scavenger hunt. It has required me to walk around my neighborhood for the first time in a while."
Other students like the opportunity to do their assignments whenever they want to. Besides the synchronous classes, teachers give students a few days to turn in their three assignments. Sophomore Jameson McKnight said, "I like online gym since you can go at your own pace, in your own time."
Leave a Comment
About the Contributor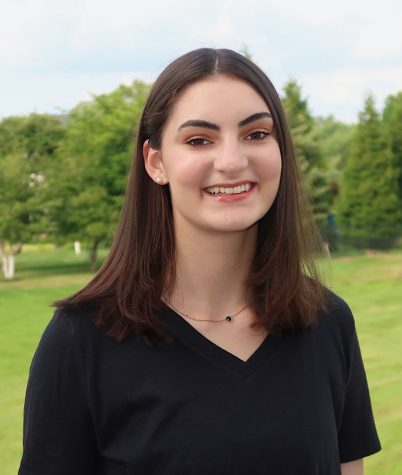 Ella Warden, Copy Editor
Grade: Senior

Favorite school subject: Computer Science

Hobby: Rowing

What you enjoy/look forward to with The Hat Chat: Meeting new people and...